FREE shipping on orders over $70!
Description

Available seasonally from September 1 to March 31 so be sure to stock up for the winter months (it's available to our loyal Subscribe & Save customers year round!).

Indulge in Delicious Health with Our Protein Cocoa Beverage

Looking for a guilt-free way to satisfy your chocolate cravings while staying on track with your fitness goals? Look no further than our Protein Cocoa Beverage!

Our Protein Cocoa Beverage is the perfect blend of rich cocoa flavour and high-quality protein, making it the ideal post-workout recovery drink or a nutritious on-the-go snack. Packed with essential amino acids not only tastes fantastic but also supports your body's muscle recovery and overall well-being.

Why Choose Our Protein Cocoa Beverage:

Rich in Protein: Each serving contains a generous 21 grams of protein to help you build and repair muscles, making it an excellent choice for athletes and fitness enthusiasts.
Delicious Taste: Indulge in the velvety chocolate goodness without the guilt, as our beverage is sugar free and low in calories.
Convenient and Versatile: Enjoy it as a standalone drink or use it as a base for smoothies, shakes, or even in your coffee for an extra protein boost.

Don't compromise on taste or nutrition. Experience the best of both worlds with our Protein Cocoa Beverage. Order yours today and take a step towards a healthier, happier you!

Each pouch makes 6 eight ounce cups of protein hot cocoa and is sold by the twin pack.
Prepared Nutrition Facts

Per one cup prepared

With water:

Calories: 100
Fat: 1.5 g
Carbohydrate: 9 g
Sugar: 0 g
Protein: 21 g

With 2% Milk:

Calories: 230
Fat: 4.5 g
Carbohydrate: 10 g
Sugar: 13 g
Protein: 30 g

With Unsweetened Almond Milk:

Calories: 140
Fat: 4.5 g
Carbohydrate: 10 g
Sugar: 0 g
Protein: 22 g
Cocoa FAQ

What do I need to make cocoa?

For the cocoa you will need a liquid like water, milk or an unsweetened almond/oat milk. 

Does the cocoa blend well?

It sure does! Our cocoa blends very well with just a fork. Even better, you can use our HelloAmino Mini Frother for extra creaminess.

Can I add the cocoa to my coffee?

You sure can! We have many customers that add our protein cocoa to their coffee. You can experiment with the amount you add to get your perfect protein mocha!

Can the cocoa be made cold?

To make an iced version, you can simply make a serving as per usual and blend it up with some ice in your blender.
Regular price
Sale price
$21.00 USD
Unit price
per
Sale
Sorry, we've sold out!
Share With a Friend
View full details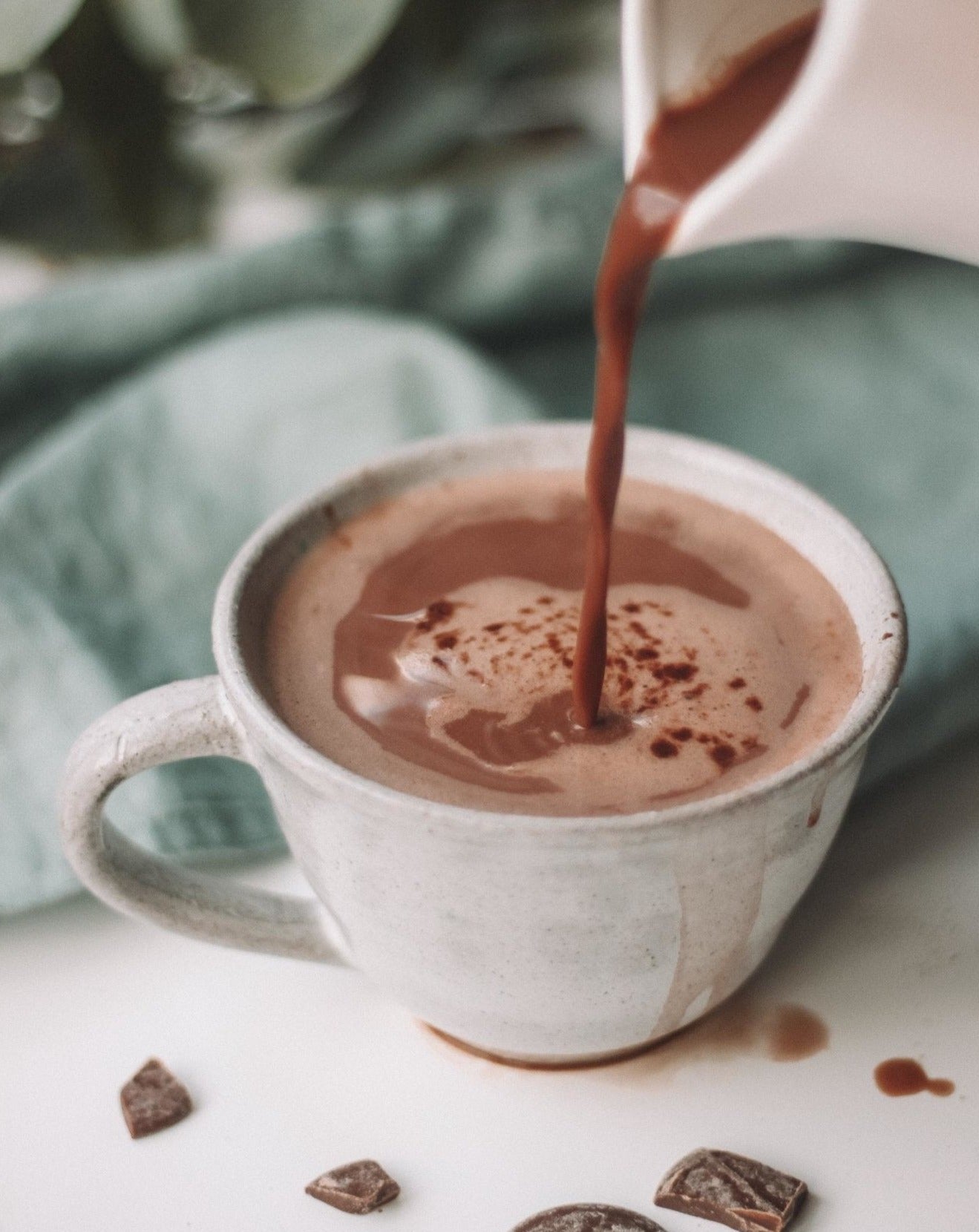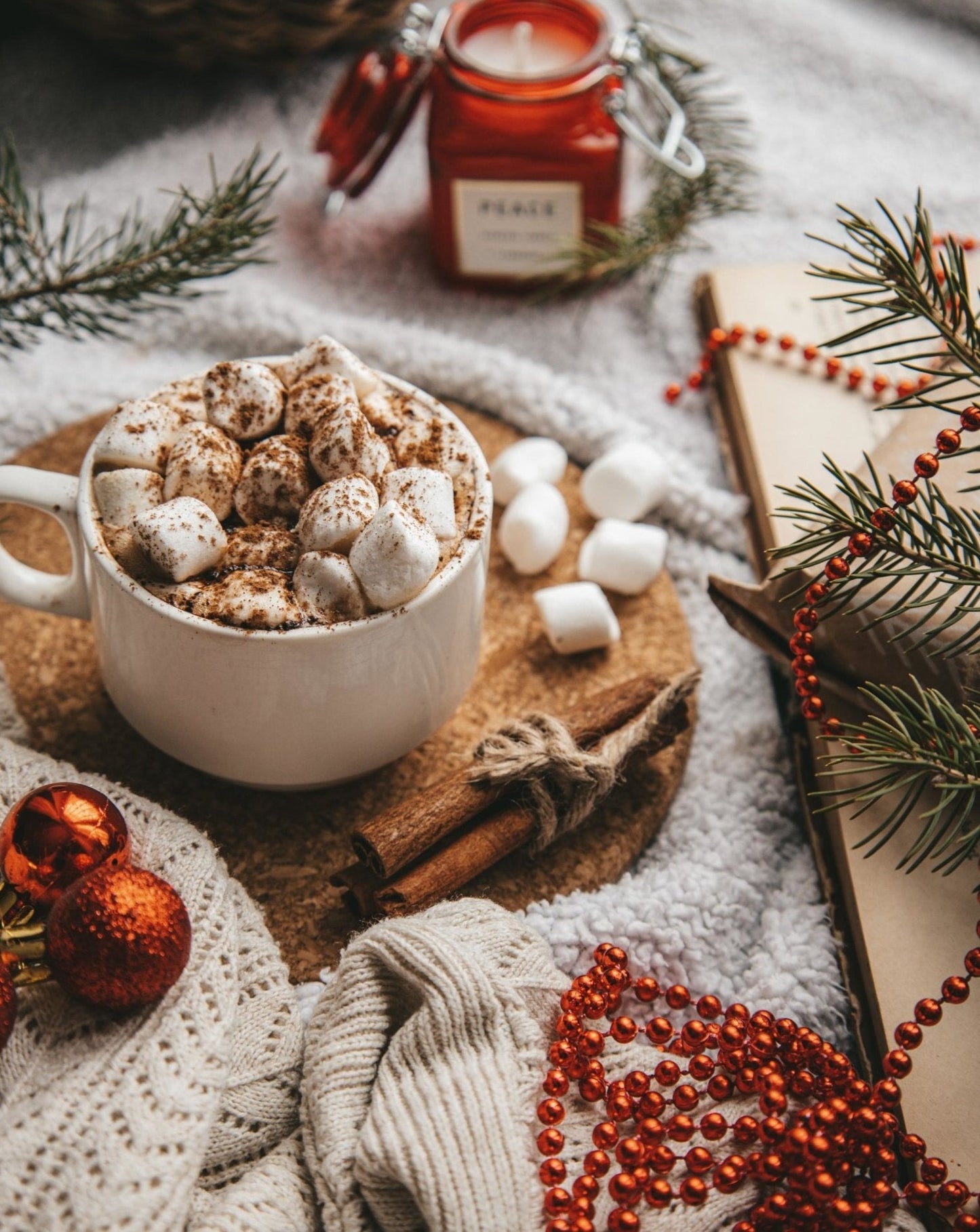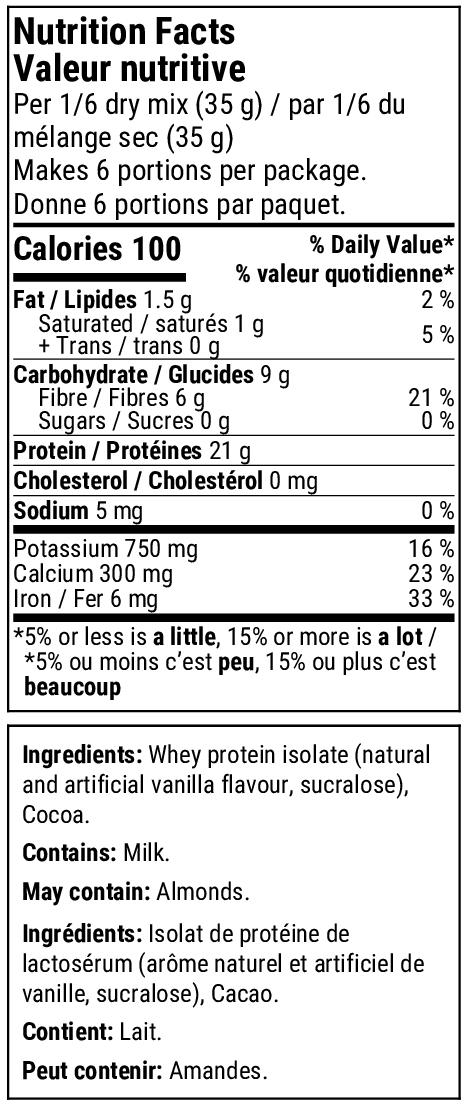 SO GOOD!
Picked up three of the mixes at Millarville Christmas market this past weekend and wow! This hot chocolate is AMAZING! Tastes so good and so quick and easy to make, I was really impressed with the creaminess and the thickness of this hot chocolate! Satisfies my sweet tooth and helps with protein goals. I am a triathlete and am always looking for ways to increase my protein throughout the day and am so excited about all the hello amino products to help with that!
Wow Morgan, what an incredible review! It really makes our day to read feedback like this, thank you so much for taking the time to write such a wonderful review! - Aelie
Creamy, delicious, indulgent
This is my new favorite thing. My teenage daughter LOVES hot chocolate, so I decided to try HelloAmino's hot cocoa mix in the hopes that I could replace the straight sugar she was drinking with something more nutritious. Not only is it better for her, it tastes better too! Creamy even when made with water (use an immersion blender!) and soooooo rich and delicious. Now I'm hooked too!
The best! We love hearing this kind of feedback! Thank you so much for taking the time to write :) - Aelie
SO yummy!
😋 Ummm, I hoped to like your hot chocolate but, to my surprise, I LOVE, LOVE, LOVE it! The rich, creamy, chocolate goodness feels indulgent. AND, not only is it sugar-free (without the bad stuff) and packed with protein, it has fiber too! Where has this hot chocolate been all my life? I'm hooked! Thank you!
YAY! Love it! So happy you're enjoying our protein cocoa Debbie! - Aelie
Delicious!
Love this cocoa!! It tastes even better than regular hot chocolate!
Wonderful to hear this! We're so glad you're loving our cocoa :) - Aelie
THE BEST!
I absolutely love this mix, I think I'm on my 10th pack now :D
It's a fan fave, especially this time of year, so happy to hear you agree! Add a drop of peppermint extract to it for a delicious peppermint mocha! - Aelie
A perfect morning treat
I have the hot cocoa almost every morning as a nice way to add some more protein while also feeling very indulgent because it's so rich, frothy and delicious.
We're thrilled to hear that our Protein Cocoa Mix is a perfect morning treat! Our cocoa is sure to give you a boost of protein so you can start your day off right. Thanks for taking the time to review our product - we really appreciate it. - Mclain
My Daily Indulgence
This hot chocolate is insanely delicious. It is so rich and chocolaty that it feels indulgent, but with low sugar and fat (so important for diabetics like me) and extra protein, it's very healthy. Gives me my chocolate fix without any of the negative parts. I love it so much I get it on a subscription and I drink it every day all year.
Aww Joey you are the best! So happy to hear you are enjoying our protein cocoa! We just brought out a new custom pouch for it too :) Thank you for the glowing review! - Aelie
Protein cocoa mix
This is the best cocoa ever, just the right sweetness and it has the added protein bonus. Delicious with a slice of double chocolate brownie!
This IS the best cocoa ever! A slice of double chocolate brownie? Brilliant! - Mclain
Delicious treat
Great alternative to drinking a protein shake
Thank you for your review! We're glad you enjoyed our Protein Hot Cocoa - 2 Pack. It's a delicious treat that's great alternative to drinking a protein shake. - Mclain
The perfect Indulgence!
The Hot Cocoa mix is so delicious! The right balance of sweet and chocolate for any hot chocolate drinker. It's my evening treat when I'm watching movies with my family and it's good for me too! Definitely a staple in my mom treats!
Ohh I love this!! I just got all the warm feels reading it. We're so happy you're enjoying our seasonal hot cocoa! Be sure to stock up as it's only here until the end of March. :)
Ways To Save
Imagine never skipping breakfast again because you don't have time or anything quick to eat in the house. Our subscription plans not only save you money, but they ensure you never run out of your favourite high protein solutions with HelloAmino! There's absolutely NO RISK and all the benefits: