FREE shipping on orders over $70!
Description

Welcome to our Gluten-Free Protein Sugar Cookies!

Indulge in guilt-free sweetness with our Gluten-Free Protein Sugar Cookies. We understand the importance of maintaining a healthy lifestyle while satisfying your sweet tooth, which is why we've created these delicious treats.

Our cookies are specially crafted for those who follow a gluten-free diet or people with a desire for an extra protein boost. Made with high-quality gluten-free ingredients and enriched with premium whey isolate, our cookies provide the perfect balance between taste and nutrition.

Key Features of Our Gluten-Free Protein Sugar Cookies:

Gluten-Free: We've carefully chosen gluten-free ingredients to ensure our cookies are safe for those with celiac disease or gluten sensitivities.
Protein-Packed: Each cookie is loaded with 8 grams of protein, making it an ideal snack for fitness enthusiasts and anyone looking to increase their daily protein intake.
Uncompromised Taste: Despite being gluten-free and protein-packed, our sugar cookies don't compromise on flavour. They are as delicious as traditional sugar cookies.
Healthier Option: With reduced sugar content compared to regular sugar cookies, our treats offer a healthier alternative without sacrificing taste.

At HelloAmino we're committed to delivering the best gluten-free protein cookies on the market. Whether you're an athlete, a health-conscious individual, or simply someone who loves cookies, you can enjoy our guilt-free delights.

Order now and experience the perfect blend of taste and nutrition with our Gluten-Free Protein Sugar Cookies!

Makes 12 cookies.
Macronutrients

Per one cookie.

Unprepared mix:

Calories: 100
Fat: 1.5 g
Carbohydrate: 17 g
Sugar: 8 g
Protein: 7 g

Prepared:

Calories: 180
Fat: 10 g
Carbohydrate: 17 g
Sugar: 8 g
Protein: 8 g
Ingredients

Gluten-free flour blend (rice flour, potato starch, pea hull fibre, tapioca starch, xanthan gum), Sugar, Whey protein isolate (natural and artificial vanilla flavour, sucralose), Almond flour, Baking powder, Salt
Contains: Almonds, Milk
Cookie FAQ

What do I need to make sugar cookies?

You will need eggs & butter.

How long do they keep?

The cookies will stay fresh when stored in an airtight container for 4 days. We are sure they will be eaten long before that!

Do I have to make the whole package?

Generally, yes. The recipe makes a dozen cookies. You can, however, make the full recipe, form the dough balls and then freeze them. You can then take out as many as you want and bake them up. Check out our Single Serve Hacks for ideas that don't use the whole package.
Purchase With Confidence
Regular price
Sale price
$16.00 USD
Unit price
per
Sale
Coming Soon!
Share With a Friend
View full details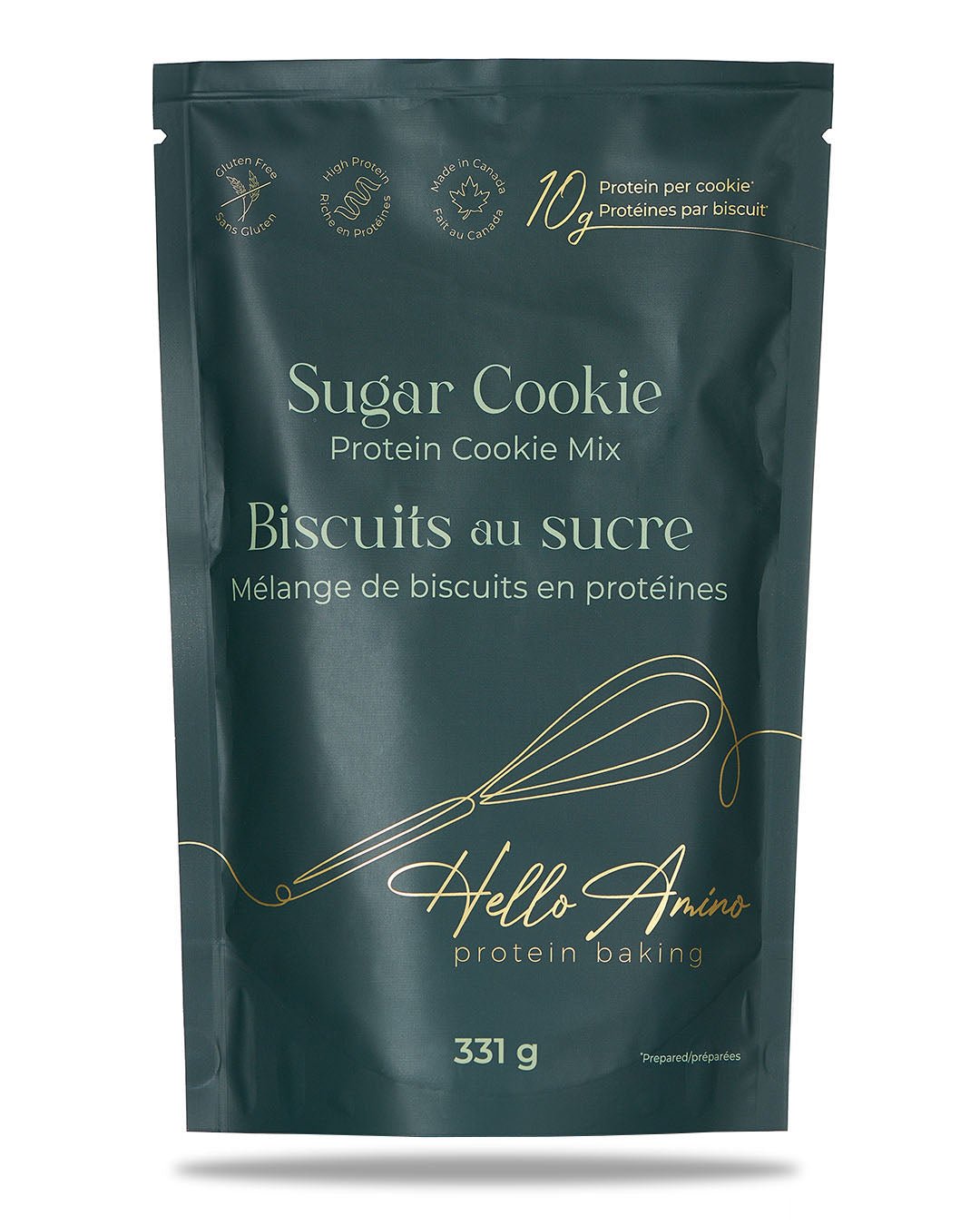 Our Guarantee
After buying and trying many of our competitors' products we are confident that our HelloAmino Protein Baking & Beverage Mixes are superior not only in general taste & texture but in protein quality & quantity.
If you don't believe that our gluten-free, protein products are head and shoulders above our competition, simply contact us and we will refund your money*.
Standing proudly behind our products,
Aelie & Mclain
Founders & Owners of HelloAmino
*Proof of purchase required.
Love the sugar cookie mix!
These cookies are so soft and moist I've never tasted anything that compares to these that is in the gluten free protein category. My husband and I are hooked on Hello Amino mixes now!!! Try one and you won't be able to stop!
YAY! We're so happy you both are enjoying our protein sugar cookies, they're one of my faves too! Try rolling them in crushed candy canes for Christmas :) Thank you for the wonderful review Sarah! - Aelie
These cookies are delicious and so easy to prepare! Perfect with tea lattes.
Happy to hear this Risa! Thank you for the great review! - Aelie
Hello newest delicious addiction, these are amazing!
My 3 teenagers and hubby are absolutely obsessed with these cookies and the maple pancake mix as well as the hot chocolate.
I love the fact that they get protein in every bite and not eating items with empty calories and no nutritional value. I will definitely be ordering again soon. Thanks for making such great products!🙏💓
Ways To Save
Imagine never skipping breakfast again because you don't have time or anything quick to eat in the house. Our subscription plans not only save you money, but they ensure you never run out of your favourite high protein solutions with HelloAmino! There's absolutely NO RISK and all the benefits: