FREE shipping on orders over $70!
Description

Indulge in the Guilt-Free Delight of Chocolate Protein Pudding

Satisfy your sweet cravings while staying on track with your fitness goals with our delectable Chocolate Protein Pudding. Packed with the goodness of premium quality protein and rich cocoa flavour, our pudding is the perfect guilt-free treat for both chocolate lovers and fitness enthusiasts.

Why Choose Our Chocolate Protein Pudding?

High-Quality Protein: Our pudding is loaded with whey isolate, essential for muscle recovery and growth.
Low in Sugar: We understand your need to watch your sugar intake. Our pudding contains minimal added sugar.
Rich Chocolate Flavour: Dive into the luscious taste of real, organic Dutch cocoa without compromising on your nutrition.
Choose Your Milk: Made with milk, cream, almond milk or even oat milk - the choice is yours!

Whether you're looking for a post-workout snack or a guilt-free dessert option, our Chocolate Protein Pudding fits the bill. It's a wholesome choice for those seeking a balance between indulgence and fitness.

Order your guilt-free Chocolate Protein Pudding today and treat yourself to a delicious, protein-packed dessert that will keep your taste buds and body happy!

Makes 8 servings.
Nutrition Facts

Per one serving.

Unprepared mix:

Calories: 120
Fat: 0.5 g
Carbohydrate: 14 g
Sugar: 4 g
Protein: 17 g

Prepared with 2% milk:

Calories: 200
Fat: 4 g
Carbohydrate: 22 g
Sugar: 12 g
Protein: 22 g

Prepared with unsweetened almond milk:

Calories: 140
Fat: 2.5 g
Carbohydrate: 18 g
Sugar: 4 g
Protein: 18 g
Ingredients

Whey protein isolate (natural and artificial vanilla flavour, sucralose), Cornstarch, Cocoa, Sugar, Salt
Contains: Milk
May Contain: Traces of almonds
Pudding FAQ

What do I need to make pudding?

For the pudding you will simply need a milk of your choice. We recommend 2% milk or an unsweetened almond/oat milk. 

Does the pudding mix blend well?

Yes, the mix blends well. It may not look like it at first but just keep stirring and by the time the pudding is ready it will be smooth as silk.

Can the pudding be eaten warm?

Yes, you can certainly eat the pudding while it's warm or after it's cooled in the fridge for a few hours. It's completely up to you! Here at HelloAmino, we prefer the pudding cold ;-)

Do I have to make the whole package?

No, you can make a single serving by combining 1/4 cup pudding mix with 1/2 cup milk and cook for about 3 minutes.

A skin formed on my pudding after it cooled. What happened?

That is a normal part of the cooling process. To prevent a skin from forming we suggest putting some plastic cling wrap directly on the surface of the pudding - covering the whole surface before putting it in the refrigerator. This will prevent the skin from forming. 

My pudding turned out a little too thick. What do I do?

Don't fear! Your pudding can be saved. If, after cooling, your pudding is a little too thick for your liking, you can simply add a little more of the milk you used and stir it in well. The pudding can sometimes end up a little too thick if you cook it too long.

My pudding was grainy. What happened?

It was likely the milk you used. We have found that oat milk, especially near the end of the container, can cause the pudding to be grainy. Another reason could be that you didn't adequately stir the ingredients, just bringing to a slight boil.
Regular price
Sale price
$15.00 USD
Unit price
per
Sale
Sorry, we've sold out!
Share With a Friend
View full details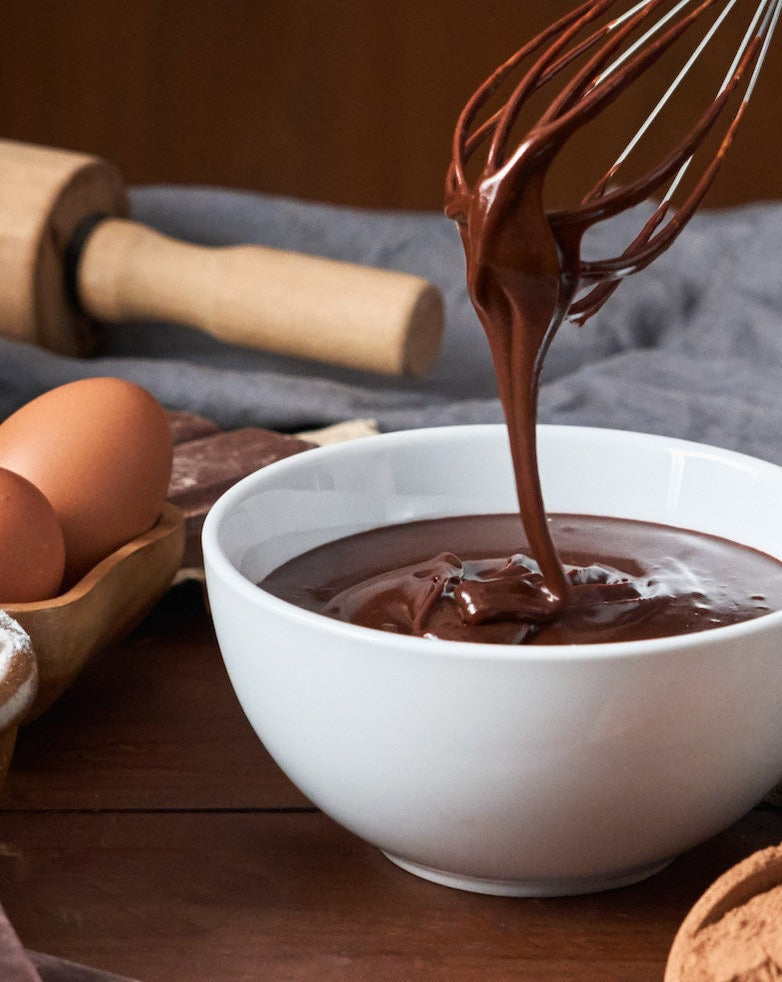 Chocolate pudding
I only bought vanilla for months thinking I wouldn't like chocolate then one day I decided to order chocolate. Well move over vanilla I still love you but chocolate is my new favourite! If you haven't tried the puddings yet you're missing out!
When I created the puddings, I started out with the chocolate version. Once I perfected it I moved onto the vanilla. The vanilla proved to be more challenging to get right. I love them both! Thanks for the review, it means a lot to us. - Mclain
Chocolate pudding
Absolutely delicious. The whole family loves it and I don't feel guilty feeding it to the kids ☺️
Love to hear that Kristy! Thrilled to know that your whole family is enjoying. Pudding is my fave too! :) - Aelie
Real treat
The chocolate pudding is a tasty dessert with the added bonus of protein which we all could use a boost of in our diet.
Great way to end a busy day!
Thanks for the review! We're thrilled that you enjoyed our chocolate pudding mix. I agree, it's my fave way to end my day too :) - Aelie
Delicious 😋
I absolutely love the Chocolate Pudding from Hello Amino.
Rich chocolate flavour and smooth texture, it's my go to pudding choice.
Will definitely be ordering it again.
Thank you
So wonderful to hear! Pudding is one of my faves too. Thrilled you love it as much as we do! - Aelie
New obsessions!
I have a new obsession with the hello amino protein vanilla pudding!! Wow! Just wow! I'm a chocoholic and loved the chocolate but am in L❤️ve with the vanilla!!
I also was drinking at least one or two tazo chai tea every day and have completed replaced that high sugar drink with the protein chai! Love the taste and feel so good getting in the extra protein!
I am amazed with taste of the waffles too! They are my go to breakfast or snack during a busy day! Thank you for all of these fabulous options!!
We are so glad you're enjoying our products. Thank you for your kind words - we're so happy to hear that you're enjoying our products. We love that you're replacing your high sugar drink with our protein chai and that you're amazed by the taste of our waffles. We hope you enjoy them for years to come! - Mclain
So delicious! My nightly treat
You and me both! (although vanilla for me haha) So happy you're enjoying our pudding Sarah! - Aelie
Delicious nighttime treat
A healthy alternative for a nighttime treat, love it!
My fave nighttime treat too! Thank you so much for this wonderful feedback! - Aelie
Delicious after dinner treat!
Delicious!! I've just made with dairy milk and it's amazing with cut up strawberries or just on its own! 8 portions in each pouch so it goes a long way. Will try next time with almond milk.
Definitely give almond milk a try. My favourite is with half 2% milk and half heavy cream :-) - Mclain
Protein Pudding
Delicious! Perfect after dinner treat with fresh berries and coconut whip cream. Vanilla and chocolate are both great and almond milk works perfect
Woohoo so happy to hear you're enjoying our puddings!
This pudding mix is UNREAL!! I have a sweet tooth and finding something that both satisfies my love for chocolate and helps with my daily protein intake has been amazing. The pudding has the perfect texture and does not have that protein taste that can be very difficult to mask. It's also extremely easy to make which makes prep time a breeze!
Ways To Save
Imagine never skipping breakfast again because you don't have time or anything quick to eat in the house. Our subscription plans not only save you money, but they ensure you never run out of your favourite high protein solutions with HelloAmino! There's absolutely NO RISK and all the benefits: