FREE shipping on orders over $70!
Description

Indulge in the Delight of Vanilla Protein Pudding

Looking for a guilt-free dessert that satisfies your sweet tooth while supporting your fitness goals? Look no further than our delicious Vanilla Protein Pudding! Packed with flavour and protein, this treat is a game-changer for health-conscious individuals.

Our Vanilla Protein Pudding is a perfect combination of taste and nutrition. Made with high-quality whey isolate, it not only satisfies your cravings but also helps in muscle recovery and growth. With each spoonful, you get a delightful burst of creamy vanilla goodness.

Why Choose Our Vanilla Protein Pudding?

Protein Powerhouse: Each serving is loaded with up to 21 grams of protein, making it an ideal post-workout snack.
Low in Sugar: We believe in healthy indulgence, so our pudding is low in sugar and carbs.
Convenient and Delicious: It's a convenient way to enjoy a tasty treat without compromising on your fitness goals.
Choose Your Milk: Made with milk, cream, almond milk or even oat milk - the choice is yours!

Whether you're an athlete, fitness enthusiast, or just someone with a sweet tooth, our Vanilla Protein Pudding is the perfect addition to your diet. Treat yourself to guilt-free pleasure today!

Indulge in the deliciousness of our Vanilla Protein Pudding and take a step closer to your health and fitness goals. Order now and experience the joy of a healthier dessert!

Makes 8 servings.
Nutrition Facts

Per one serving.

Unprepared mix:

Calories: 100
Fat: 0 g
Carbohydrate: 10 g
Sugar: 4 g
Protein: 16 g

Prepared with 2% milk:

Calories: 180
Fat: 3 g
Carbohydrate: 17 g
Sugar: 12 g
Protein: 21 g

Prepared with unsweetened almond milk:

Calories: 120
Fat: 2 g
Carbohydrate: 10 g
Sugar: 4 g
Protein: 16 g
Ingredients

Whey protein isolate (natural and artificial vanilla flavour, sucralose), Cornstarch, Brown sugar, Salt
Contains: Milk
May Contain: Traces of almonds
Pudding FAQ

What do I need to make pudding?

For the pudding you will simply need a milk of your choice. We recommend 2% milk or an unsweetened almond/oat milk. 

Does the pudding mix blend well?

Yes, the mix blends well. It may not look like it at first but just keep stirring and by the time the pudding is ready it will be smooth as silk.

Can the pudding be eaten warm?

Yes, you can certainly eat the pudding while it's warm or after it's cooled in the fridge for a few hours. It's completely up to you! Here at HelloAmino, we prefer the pudding cold ;-)

Do I have to make the whole package?

No, you can make a single serving by combining 1/4 cup pudding mix with 1/2 cup milk and cook for about 3 minutes.

A skin formed on my pudding after it cooled. What happened?

That is a normal part of the cooling process. To prevent a skin from forming we suggest putting some plastic cling wrap directly on the surface of the pudding - covering the whole surface before putting it in the refrigerator. This will prevent the skin from forming. 

My pudding turned out a little too thick. What do I do?

Don't fear! Your pudding can be saved. If, after cooling, your pudding is a little too thick for your liking, you can simply add a little more of the milk you used and stir it in well. The pudding can sometimes end up a little too thick if you cook it too long.

My pudding was grainy. What happened?

It was likely the milk you used. We have found that oat milk, especially near the end of the container, can cause the pudding to be grainy. Another reason could be that you didn't adequately stir the ingredients, just bringing to a slight boil.
Regular price
Sale price
$15.00 USD
Unit price
per
Sale
Sorry, we've sold out!
Share With a Friend
View full details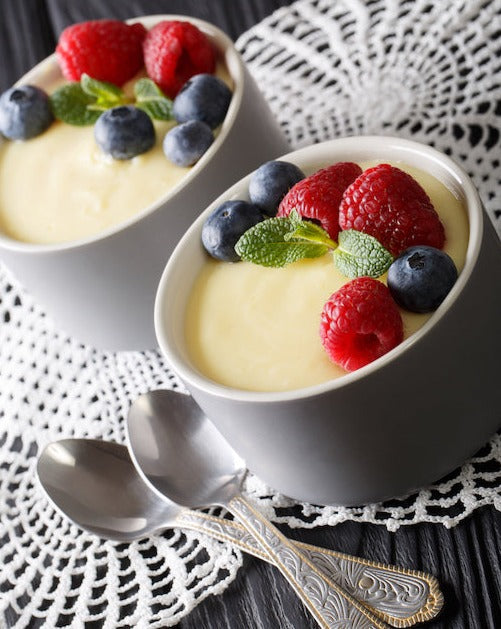 Best pudding ever!!
I love this sweet treat that I don't have to feel guilty about! My kids also love it and it's great that it has no artificial dyes either!
Pudding is my fave too, so happy you agree and that your kiddos do too! :) - Aelie
Wow!
Amazing! It was delicious! Perfect consistency and hit the spot for a guilt free dessert!
My favourite too! We're so glad you're enjoying our pudding! - Aelie
Amazing taste!
I am usually a chocolate fan through and through, but this vanilla is TASTY! Love having an easy, single serve dessert on hand.
Haha YES! I keep telling people they will love our vanilla even if they are a chocolate lover, thank you for this amazing review! - Aelie
Perfect Night Snack!
This vanilla protein pudding is the perfect snack to eat at night. Keeps me from reaching for the sweets. I usually top it with a couple raspberries and it's so good!
Love it! We're so happy to hear you're loving our vanilla pudding as much as we do! - Aelie
Vanilla pudding
All I can say is AMAZING like wow. Perfect nightly dessert that's healthy but makes you feel like you are cheating 🙌🏼
I've just placed an order for more packages and to try the chocolate. I love hello Amino
Love it!! We are so thrilled to hear this! Can't wait to hear how you enjoy the chocolate!- Aelie
Pudding
I'll be honest I didn't think the pudding would be for me. I decided I might as well try it and oh wow hello to my new addiction! The pudding is amazing! It will be on my order every time! So so good! If you're on the fence just try it!
Woohoo! I am with you Allison, it's my fave too and I never expected it to be. I am so glad you agree and are loving it! Thank you for such an amazing review - Aelie
AMAZING!!!
Vanilla protein pudding is such a sweet indulgence without the guilt!! It's a fantastic after dinner treat!! I can't get enough!
You and me both Erin haha We're so glad to hear you're enjoying our pudding, thank you so much for sharing! -Aelie
I cant stop eating this!!
I've bought the vanilla pudding twice now and I eat it all right away in single servings...one after another...til the package is gone haha. It's so good, the best pudding ever! I prefer it over the chocolate pudding.
I love this! It's my fave too. Thrilled you're enjoying Caylin! -Aelie
WOW!
Not a huge pudding person but I thought I'd give it a try as I love all the rest of the HelloAmino products. It is absolutely delicious and there's so many ways to dress it up as a more indulgent treat. This will be my new go to single serving treat as it is so easy to make.
Thank you for your great review! We're so happy to hear that you enjoy our Vanilla Protein Pudding Mix and that it is a great way to enjoy a more indulgent treat. - Mclain
UNREAL!!!
Honestly I'm not a big Pudding fan so I was skeptical to try this but I have loved everything else so I figured what the heck. This is absolute HEAVEN and you can be really creative with how you eat it. In my photo I made a CAKE with the pancakes and layered it with the pudding. It doesn't even taste like a protein dessert, the texture is perfect and I can't wait to make more desserts with this.
What an incredible creation Suzanne! I love this idea and thank you so much for sharing it. What a wonderful review! - Aelie
Ways To Save
Imagine never skipping breakfast again because you don't have time or anything quick to eat in the house. Our subscription plans not only save you money, but they ensure you never run out of your favourite high protein solutions with HelloAmino! There's absolutely NO RISK and all the benefits: