FREE shipping on orders over $70!
Description

What's better than the warm embrace of cinnamon? We say, our protein-packed and gluten-free pancakes with this beloved spice at the center, that's what. Delivering an impressive *33g per three-stack serving, our Cinnamon Protein Pancake/Waffle Mix is a powerhouse of goodness that you just won't be able to get enough of.

We've not only prioritized your macronutrients with our mix but also your tastebuds. Not as sweet as our Maple Pancakes, but every bit as delightful, our pancake mix has no added sugar, no preservatives and is 100% gluten-free.

What's more, we've used the purest whey isolate, ensuring a delicious taste and texture that's miles away from the typical protein-y feel that most protein infused products have.

With our cinnamon-sational breakfast plate, you're sure to become a morning person in no time!


No added sugar
No preservatives
No syrup required
33g of protein per stack of three when made with eggs*
Macronutrients

Per one pancake.

Unprepared mix:

Calories: 100
Fat: 2 g
Carbohydrate: 11 g
Sugar: 0 g
Protein: 10 g

Prepared with eggs:

Calories: 110
Fat: 2.5 g
Carbohydrate: 12 g
Sugar: 0 g
Protein: 11 g

Prepared without eggs:

Calories: 100
Fat: 2 g
Carbohydrate: 11 g
Sugar: 0 g
Protein: 10 g
Ingredients

Gluten-free flour blend (rice flour, potato starch, pea hull fibre, tapioca starch, xanthan gum), Whey protein isolate (natural and artificial cinnamon flavour, sucralose), Almond flour, Baking powder, Cinnamon, Salt
Contains: Milk, Almonds
Pancake FAQ

What do I need to make pancakes?

For the pancakes you will need eggs and water. For waffles you will need to add a bit of oil to the batter to help with the crispiness.

Do I need to use eggs?

No, you can just use water, but we suggest adding eggs if you want the fluffiest pancakes.

Can I make a single serving?

You sure can and it increases the protein to an unbelievable 46g! We call this our SUPERCHARGED serving! Simply mix 3/4 cup dry pancake mix with 1 egg and 1/4 cup of water and cook as per usual into 3 pancakes or one large waffle.

Can I add cherries or chocolate chips?

Whatever floats your boat! You can add anything you'd like. Be sure to check our 

Recipes

page for ideas.
Purchase With Confidence
Regular price
Sale price
$16.00 USD
Unit price
per
Sale
Coming Soon!
Share With a Friend
View full details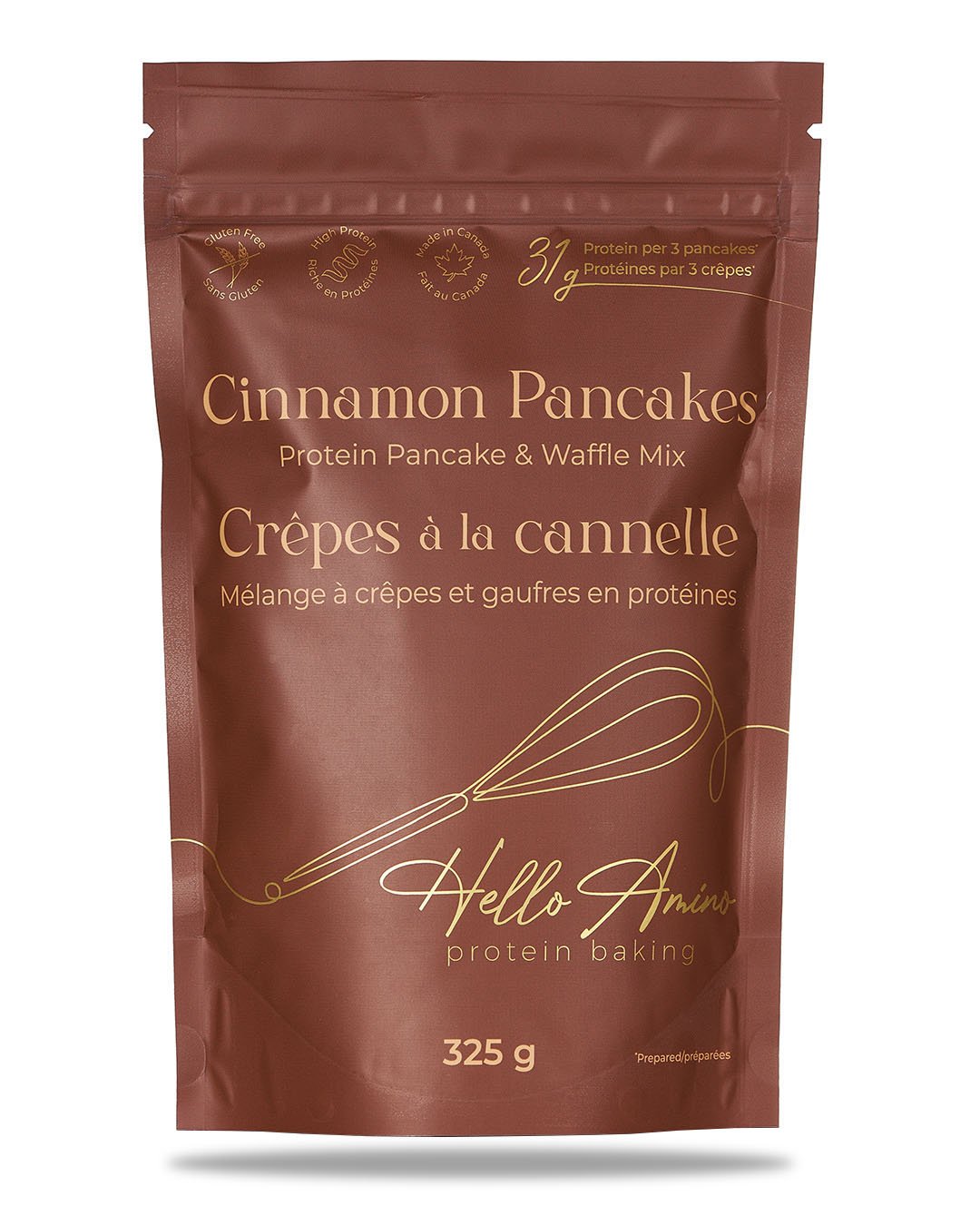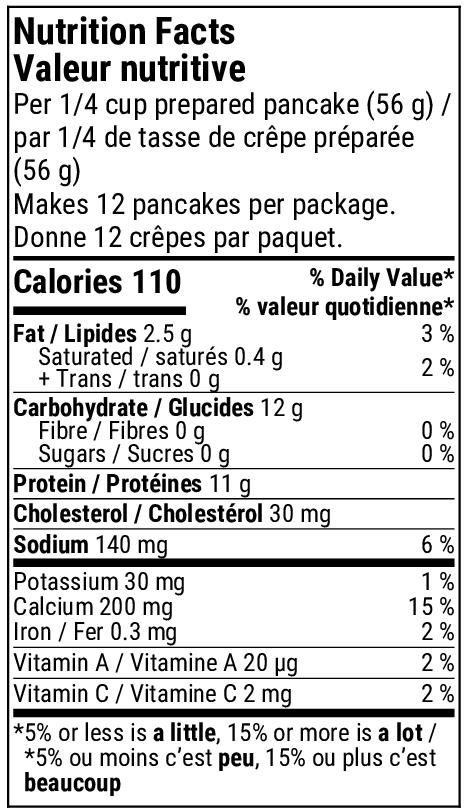 Our Guarantee
After buying and trying many of our competitors' products we are confident that our HelloAmino Protein Baking & Beverage Mixes are superior not only in general taste & texture but in protein quality & quantity.
If you don't believe that our gluten-free, protein products are head and shoulders above our competition, simply contact us and we will refund your money*.
Standing proudly behind our products,
Aelie & Mclain
Founders & Owners of HelloAmino
*Proof of purchase required.
OMG another delicious flavour!
Cinnamon waffle for breakfast today so delicious with a drizzle of syrup and an apple - my husband wanted his usual cereal. Within 2 minutes he said he was still hungry so I had to make him a waffle - he should have gone with the waffle to start with!
Cinnamon Waffles yum!
This morning I tried the Cinnamon Protein mix for waffles and they were delicious! I added the egg for more protein boost and made the individual serving...so easy. I ate them hot off my mini waffle maker ... definitely no need for any added topping.
Thank you so much for the review Karyn, we're happy to hear you're enjoying our cinnamon waffles and that they are an easy addition to your day! - Aelie
Best protein snack!
It is difficult to get your protein in, especially when you have a sweet tooth! This is a perfect dessert or snack for me to fill both buckets!
This is precisely why we created our products. If you are going to indulge in some sweet treats...why not get some vital protein in at the same time? Thanks for your review! - Mclain
Wow!
I prepared the cinnamon pancakes the last time my family gathered, and every child and adult cleaned their plates! Just as they say...no syrup or toppings are even necessary as the flavor can stand on its own! To add the fact that they are made with quality ingredients is truly remarkable! Thank You so much for commitment to health and wellness...and GREAT TASTE! THESE PANCAKES ARE THE BEST EVER!!
Thank you for your positive review of our Cinnamon Protein Pancake/Waffle Mix! We are so happy to hear that they were a hit with your family. We pride ourselves on creating quality products that are protein packed AND taste great. We are glad that our protein pancake mix met your expectations! - Mclain
Fluffy, delicious and packed with protein!
I'm obsessed with the pancake/waffle mixes. They are so easy to make, fluffy and packed with protein. I love them so much that I brought a suitcase full back with me to France!
I hope you had a great trip back! So happy we could come back to France with you, maybe we'll be sold there some day :) Thank you for the wonderful review Lindsay! - Aelie
Light and tasty
I haven't perfected the waffle cooking yet with my new waffle iron so they don't always come out perfectly but the taste is still good! I have also used the batter for pancakes which work out easily. They are really light and delicious.
So happy your enjoying the flavour! I'll get some waffle tips posted on our blog. One key is don't rush the cook, it takes about five minutes. :) - Aelie
Teenager Approved
Wanted to share with you that we tried your Cinnamon pancakes while out camping in Sicamous. We forgot a bowl and measuring cups😩, BUT your packaging makes a great mixing bowl😂. Hubby just popped in the eggs and water and shock it up. Pancakes were amazing and everyone felt full right to lunch. Even my teenagers loved them. Thank you for making something so yummy that's packed with protein the whole family can love. ❤️
This is GENIUS!! Thank you so much for sharing this idea! And happy to hear they are teenager approved too, bonus! - Aelie
These are wonderful!
I'm very impressed with the pancake/waffle mixes! Will be purchasing more!
Thanks for the great review! We're glad you're impressed with our mixes - we'll be sure to keep plenty in stock! - Mclain
Amazing!!
These are so yummy and are such an easy way to get more protein in.
We're so glad you love our cinnamon protein pancake/waffle mix! They are a super enjoyable way to get in your protein. - Mclain
Ways To Save
Imagine never skipping breakfast again because you don't have time or anything quick to eat in the house. Our subscription plans not only save you money, but they ensure you never run out of your favourite high protein solutions with HelloAmino! There's absolutely NO RISK and all the benefits: