New & Improved Recipe!
FREE shipping on orders over $70!
Description

Now with 39 grams of the highest quality protein per stack of three. That's as much protein as a 6 oz chicken breast!

Our Maple Protein Pancake/Waffle Mix isn't just another type of protein baking, it's a plate full of promise (and taste!). Jam-packed with *39 grams of protein per stack of three, our protein pancake mix is free from any added sugars and preservatives and ensures that you have everything you need to seize the day - one bite at a time.

Even better, the delicious and authentically tasting maple essence means our pancakes don't need any additional syrup. But if you are feeling creative, we recommend adding in berries, chocolate chips, or any personal favourite.

With or without eggs, our maple protein pancake mix delivers an incredible spin to your morning meal. And, if you're asking us, breakfast is way too important to be less than ordinary! So take it up a notch and make a decision that your future self and taste buds will thank you for.


No added sugar
No preservatives
No syrup required
39 g of protein per stack of three when made with eggs*
Macronutrients

Per one pancake.

Unprepared mix:

Calories: 120
Fat: 2 g
Carbohydrate: 14 g
Sugar: 0 g
Protein: 12 g

Prepared with eggs:

Calories: 130
Fat: 3 g
Carbohydrate: 14 g
Sugar: 0 g
Protein: 13 g

Prepared without eggs:

Calories: 120
Fat: 2 g
Carbohydrate: 14 g
Sugar: 0 g
Protein: 12 g
Ingredients

Gluten-free flour blend (rice flour, potato starch, pea hull fibre, tapioca starch, xanthan gum), Whey protein isolate (natural and artificial maple flavour, sucralose), Almond flour, Baking powder, Salt
Contains: Almonds, Milk
Pancake FAQ

What do I need to make pancakes?

For the pancakes you will need eggs and water. For waffles you will need to add a bit of oil to the batter to help with the crispiness.

Do I need to use eggs?

No, you can just use water, but we suggest adding eggs if you want the fluffiest pancakes.

Can I make a single serving?

You sure can and it increases the protein to an unbelievable 46g! We call this our SUPERCHARGED serving! Simply mix 3/4 cup dry pancake mix with 1 egg and 1/4 cup of water and cook as per usual into 3 pancakes or one large waffle.

Can I add cherries or chocolate chips?

Whatever floats your boat! You can add anything you'd like. Be sure to check our 

Recipes

page for ideas.
Purchase With Confidence
Regular price
Sale price
$16.00 USD
Unit price
per
Sale
Coming Soon!
Share With a Friend
View full details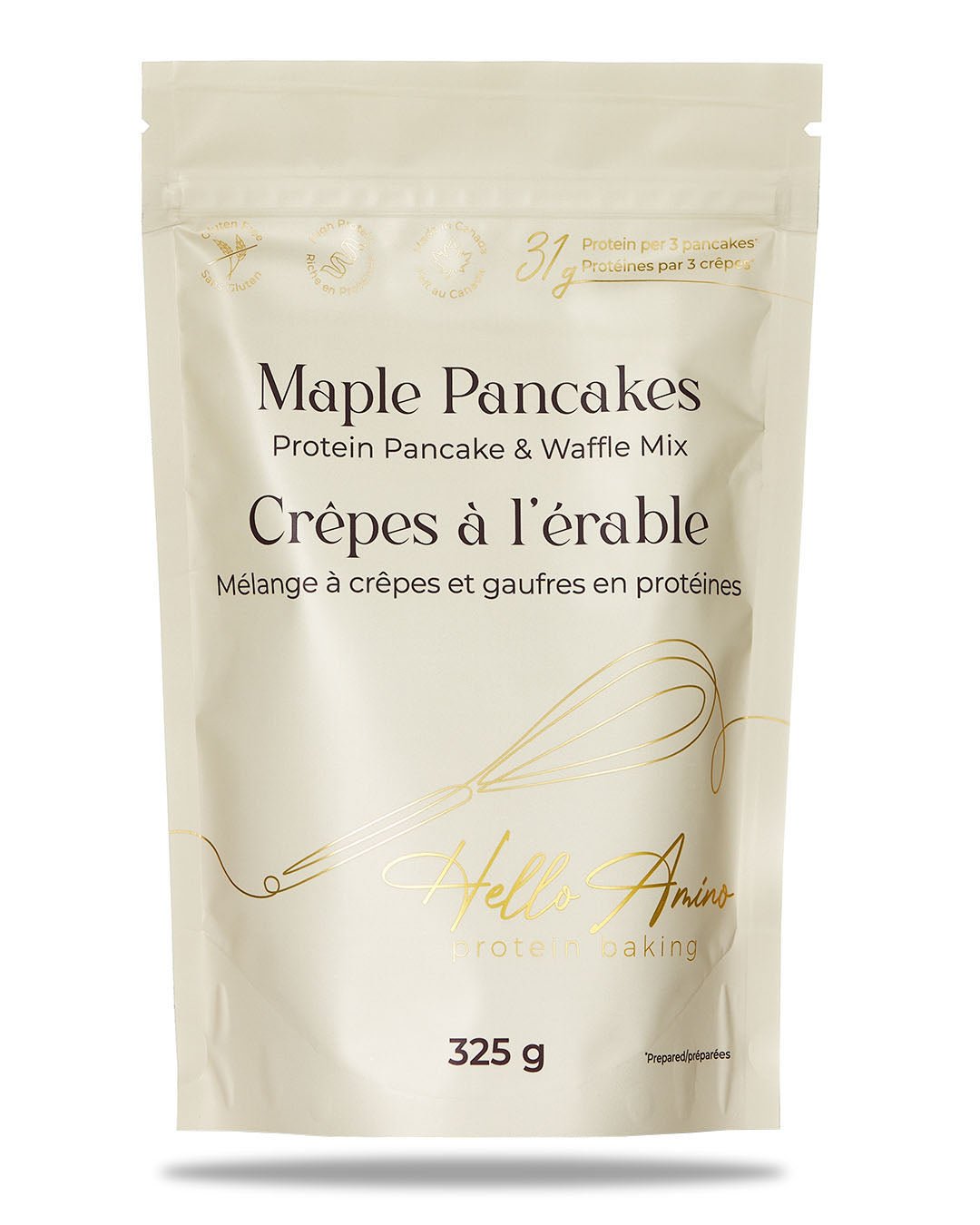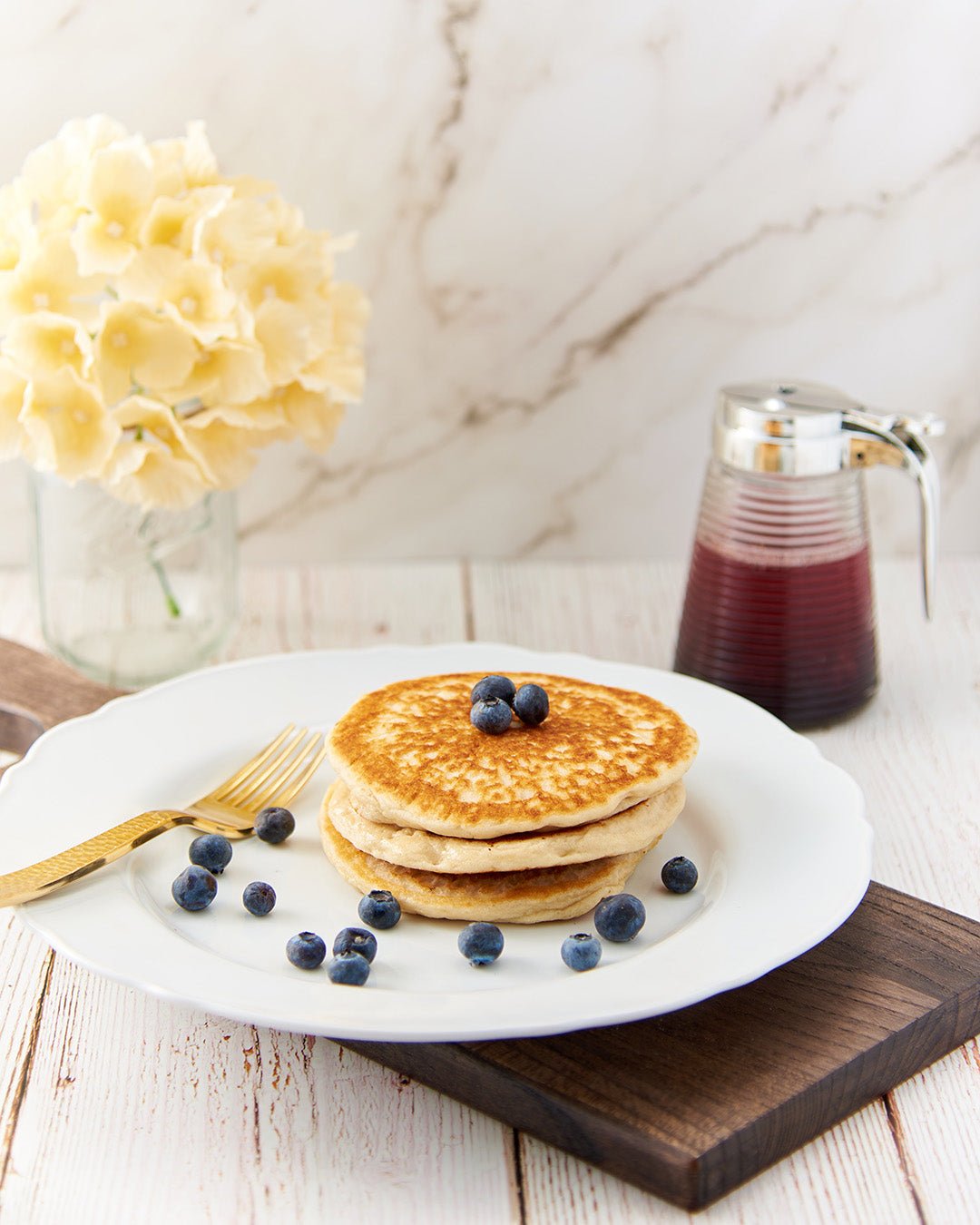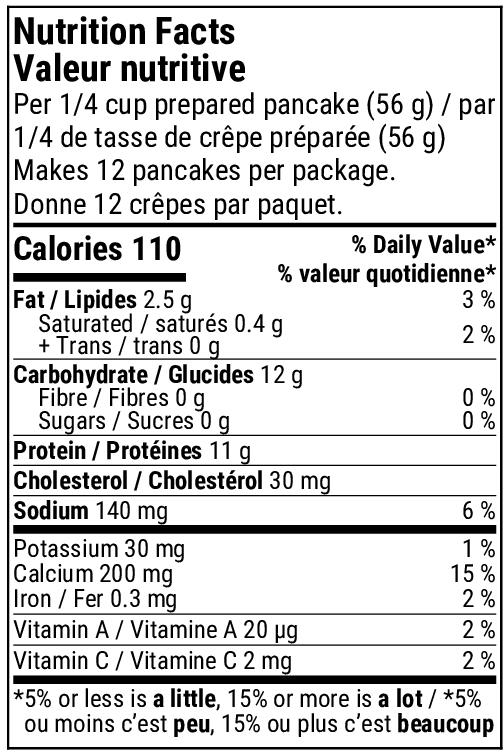 Our Guarantee
After buying and trying many of our competitors' products we are confident that our HelloAmino Protein Baking & Beverage Mixes are superior not only in general taste & texture but in protein quality & quantity.
If you don't believe that our gluten-free, protein products are head and shoulders above our competition, simply contact us and we will refund your money*.
Standing proudly behind our products,
Aelie & Mclain
Founders & Owners of HelloAmino
*Proof of purchase required.
Best Pancake Mix Out There.
This is the best pancake mix I have found. Not only is it packed with protein and an amazing flavour, it is gluten free and makes breakfast super easy. I eat these at the very least twice a week. The maple flavour with just a little butter…. Perfection.
We LOVE this! So thrilled to hear how much you're enjoying our maple pancakes! Thanks so much for the glowing review Cassandra! - Aelie
Maple Protein Pancakes
These do not disappoint. They are a daily staple in my life. Being able to take to work and microwave to make a pancake in a bowl is the best. Over 35g of protein and the taste is amazing. Don't hesitate to try these!
Thanks for the honest review. We're so happy that you love our maple protein pancakes! Mug cakes are certainly a breakfast game changer :-) - Mclain
Maple Protein pancakes
Just bought a new waffle iron so had to test it out. This was the first time I have made Hello Amino waffles and they did not disappoint! They are so good on their own that no syrup was needed! Topped with Greek yogurt and berries, this was well over 40 grams of protein. This is an amazing product!
We're so glad you love our Maple Protein Pancake/Waffle Mix. Waffles that provide a lot of quality protein and perfect for breakfast, as a snack or even supper - amazing! Thanks for writing this review. - Mclain
Perfect way to start the day!
These are the tastiest pancakes ever. It's true, they don't need any extra syrup, they're perfect as is. They're super fluffy too, while still being filling.
Thank you for your kind words! We're so happy you love our pancakes sans syrup as much as we do! - Aelie
So good!
The fact that I can get my protein from these is just a bonus because they taste greet!
Thank you for your review! We're glad you enjoyed our maple pancake/waffle mix :) - Mclain
Family, celiac, gym goer approved
These are so darn good. Whole family loves them. I love that we are all getting our protein in (sneaky mom hack)
As a celiac I can't believe these are gluten free. Currently ordering more!
Thanks for the great review! We're so happy to hear that you and your whole family enjoy our protein pancakes. We're happy to be able to provide a gluten-free option that everyone can enjoy. - Mclain
Best Pancakes EVER
Hubby and I eat the same pancakes every weekend together. I don't need to make GF ones for myself and regular for him, or force him to eat dry sense GF ones. These are SO good that non GFers enjoy them!!! . That is HUGE for me! These are a staple in our house and there's never not a bag in our pantry.
I also make them into a mug cake for breakfast! 😉
YAY! So happy to hear they are approved by non GF people too, we worked very hard on ensuring that the texture is loved by all so this is the best news! So happy to be a part of your regular pantry supplies :) - Aelie
Such a great breakfast hack!
I love the flavour and make the mug cake on the package and doctor it with some fruit and peanut butter for a great, hearty breakfast. I pre make the batter and the next few days breakfast is ready in less then 2 minutes!
Thanks for the feedback! We're glad you're enjoying the mix and find it helpful for quick breakfast options. - Mclain
These are a staple in my house
So I am not a pancake person, cause I worked at IHOP for many years in my teens. I cannot get enough of these! I have them for breakfast almost every day!
WOW what an amazing review! Carrie! That is saying a lot! We're so happy you gave ours a try and that you're loving them so much :) Thank you for sharing this glowing feedback - Aelie
The most delicious and nutritious pancakes
These pancakes are beyond words. Easy, easy, easy to make (just add water and eggs) and, unlikevother GF mixes I've tried, they cook up fluffy and delicious. You really don't need syrup because they are naturally sweet - just tope with your favorite fruit or nut butter. The package says it makes 12 cakes, but I make them husband sized and get 8-10 per package. At that size they are 20g of protein per pancake! (One is enough for me and my 14-year old daughter.) They keep well in the fridge, so leftovers are a breeze!
Wow! What an amazing review! We worked really hard to get the perfect texture, we're so happy that you agree! Thank you so much for taking the time to write such a glowing review - Aelie
Ways To Save
Imagine never skipping breakfast again because you don't have time or anything quick to eat in the house. Our subscription plans not only save you money, but they ensure you never run out of your favourite high protein solutions with HelloAmino! There's absolutely NO RISK and all the benefits: