FREE shipping on orders over $70!
Description

Indulge in Pure Protein Bliss With Our Irresistible Protein Brownies

Satisfy your sweet tooth while staying committed to your fitness journey with our delectable Protein Brownies. These mouthwatering treats offer the perfect blend of divine flavour and muscle-boosting protein, making them a guilt-free delight for your taste buds and physique.

Protein-Packed Goodness

Our Protein Brownies are a delicious fusion of rich, fudgy cocoa goodness and high-quality whey protein. Each bite supports tissue growth and repair, aids recovery, and keeps you feeling full longer. Say goodbye to empty calories and hello to a nutritious snack that fuels your active lifestyle.

Health-Conscious Ingredients

Crafted with care, our Protein Brownies are low in sugar, gluten-free, and rich in fiber. We've skipped the artificial preservatives, so you can snack with confidence, knowing you're making a smart choice for your body.

Versatile and Delicious

Whether you're replenishing after a workout, boosting your energy, or satisfying your cravings, our Protein Brownies are the perfect fit. Carry them in your gym bag, enjoy them with coffee, or share them as a wholesome dessert.

Join the Protein Brownie Revolution

Experience the mouthwatering revolution in health-conscious snacking. Order our Protein Brownies now and discover the ultimate balance between flavour and fitness. Your taste buds and muscles will thank you!

Makes 9 brownies.
Nutrition Facts

Per one brownie.

Unprepared mix:

Calories: 120
Fat: 0.4 g
Carbohydrate: 20 g
Sugar: 11 g
Protein: 11 g

Prepared:

Calories: 230
Fat: 13 g
Carbohydrate: 20 g
Sugar: 11 g
Protein: 13 g
Ingredients

Sugar, Whey protein isolate (natural and artificial vanilla flavour, sucralose), Gluten-free flour blend (rice flour, potato starch, pea hull fibre, tapioca starch, xanthan gum), Cocoa, Cornstarch, Salt, Baking soda
Contains: Milk
May Contain: Traces of almonds
Brownie FAQ

What do I need to make brownies?

You will need eggs, butter & vanilla extract.

How do I make mini brownies?

Prepare as directed on the package, divide the batter into mini muffin liners and reduce baking time to approximately 13 minutes.

Can I freeze the brownies?

The brownies freeze very well stored in an airtight freezer bag. Otherwise, they can be stored in an airtight container for 4-5 days. We are sure you will eat them long before that!

Do I have to make the whole package?

For a traditional brownie experience we recommend making the whole package as directed, however, you can get a quick brownie fix by combining 1/3 cup brownie mix with 2 tbsp water in a microwave safe mug and cook for 60-90 seconds.

Check out the IG reel here.

Can I add cherries or chocolate chips?

Whatever floats your boat! You can add anything you'd like. Be sure to check our 

Recipes

page for ideas.
Regular price
Sale price
$15.00 USD
Unit price
per
Sale
Sorry, we've sold out!
Share With a Friend
View full details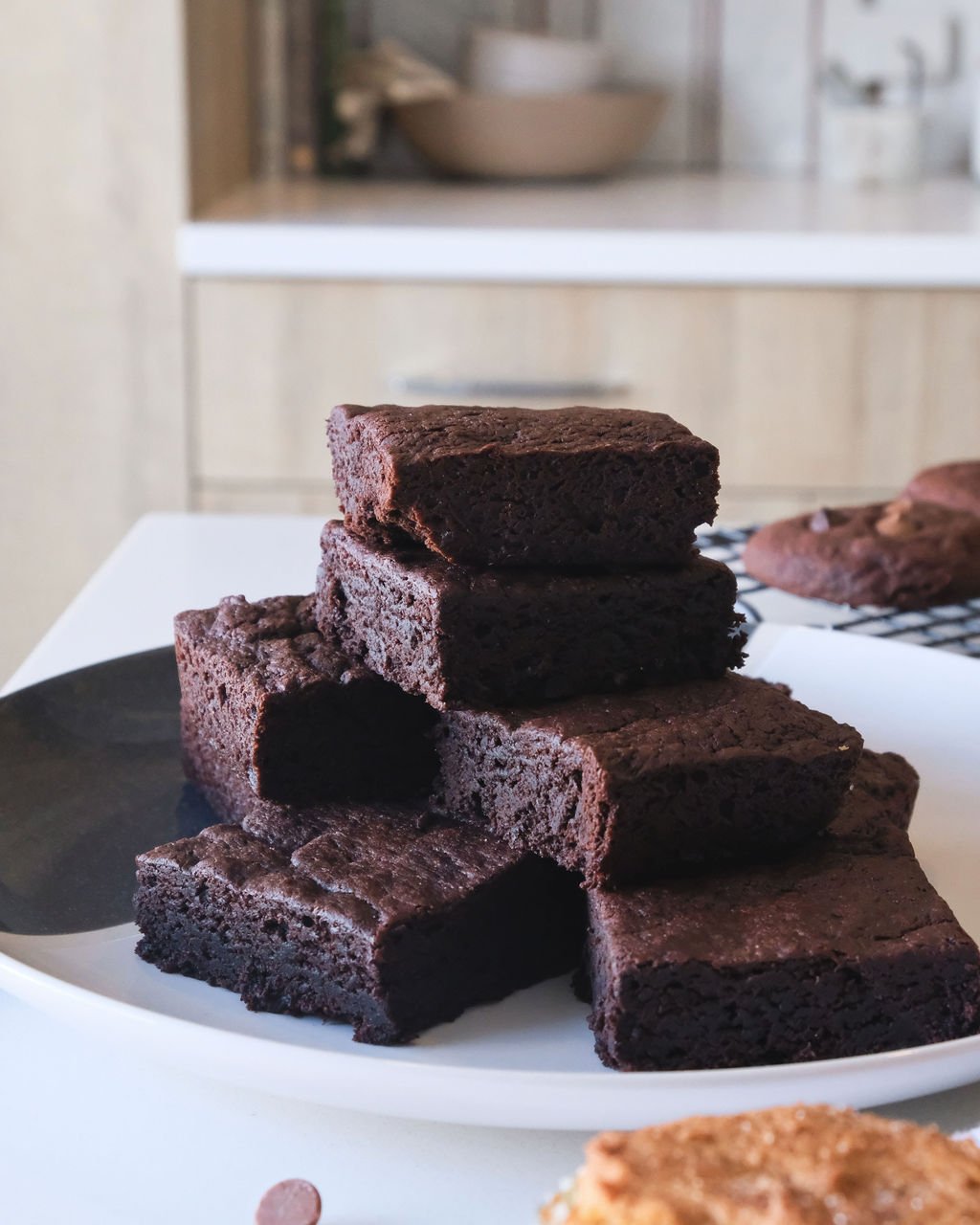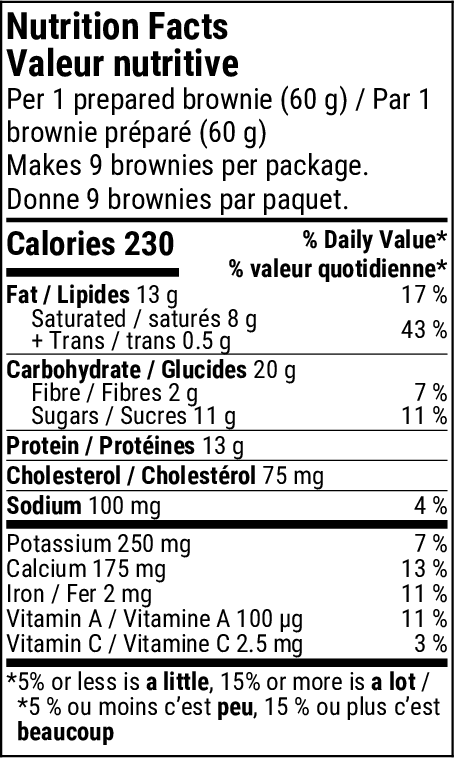 Perfect 2 bite brownies
made these in my mini muffin pan, added some walnuts and they are the perfect, not too sweet, treat that I don't need to feel guilty about!
Love HelloAmino
I am so happy to have found HelloAmino! Their products are a complete game changer for anyone trying to up their protein intake. The brownies, pancake mixes, and drinks (chai and London fog) are so so good. The brownies in particular are my fave — I am a single serve brownie every day to curb my cravings!
Wow my heart overflows! What an incredible review Theodora, we're just thrilled to hear how much you're loving our mixes. Thank you! - Aelie
The best quick snack!
I have a hard time meal prepping for the weekends. Weeks are easy with schedules and work but weekends I flounder. This came sooo in handy for breakfast….. yes I said it, breakfast. 1/3cup brownie, 2t so water mix and microwave. (Found quick recipe on their website) topped with plain yogurt and some fruit. OMG! The best
I love this! Our single serve hacks are a great time saver, sounds like a delish morning! We so appreciate the review - Aelie
Kids Love Them!
My kids are addicted to these brownies!! They ask for them all the time. So delicious and chewy! Very tasty.
We love to hear kids enjoying our mixes, they are always so honest. Thank you for the awesome feedback! - Aelie
Delicious!
I look forward to my protein brownie in a mug every evening, even when I'm eating in a deficit. Thank you for creating this dessert!!
Love that you can fit HelloAmino into your life during a fat loss phase, makes it all the more enjoyable! Thank you for the wonderful review - Aelie
Thick and chocolaty!
I love making these brownies because the whole family likes them and they are so easy to make! Taste is super chocolaty and they are filling! Love them!
Thank you for your feedback! We're glad to hear that you and your family enjoy these brownies and that they are easy to make. They are one of our faves too! - Aelie
Delicious and easy
I've only made the brownies as the single serve "brookie" recipe from their Instagram and it is delicious and easy. I love that it's a good amount and protein and only about 200 calories.
Thanks for the review! We're glad you enjoyed our Chocolate Protein Brownie Mix with one of our single serve hacks :-) - Mclain
Hot Protein Cocoa and Double chocolate protein brownie mix
Two of my favourite products. I make the brownie for dessert often when we have friends around for dinner and it is always a winner.
My decadent treat - a mug of hot protein cocoa and a slice of brownie - heaven
Thank you for the review. The brownie mix is a favorite in our house too - especially as an air fryer lava cake! - Mclain
Double Chocolate Protein Brownie Mix
Thank you for the 5 stars Linzi! We're so happy you enjoyed our protein brownies - Aelie
Delicious
Warning, you will be addicted!! So good!
LOL Yes, yes you will be! Thanks, Lisa, for the review. - Mclain
Ways To Save
Imagine never skipping breakfast again because you don't have time or anything quick to eat in the house. Our subscription plans not only save you money, but they ensure you never run out of your favourite high protein solutions with HelloAmino! There's absolutely NO RISK and all the benefits: