FREE shipping on orders over $70!
Not ready to commit to a full pouch? Order a single serving packet to try out!
For less than the price of your favourite coffee shop version and up to six times the protein! These single serving packets also make great stocking stuffers or unique gifts.
Welcome to the ultimate source of wellness and indulgence – our Golden Milk Protein Latte Mix! Elevate your daily routine with the perfect blend of ancient wisdom and modern nutrition.
Our carefully crafted formula combines the goodness of golden turmeric with the power of protein to create a delightful and nutritious experience.
Why choose our Golden Milk Protein Latte Mix?
Premium Ingredients:

 

We use only the finest quality ingredients to ensure every sip is a moment of pure pleasure.
Health Benefits:

 

Turmeric, known for its anti-inflammatory properties, is combined with protein to support your active lifestyle.
Convenience:

 

Enjoy the luxury of a café-quality latte in the comfort of your home. Simply mix with your favorite milk, hot or cold!
Delicious Flavour:

 

Our mix offers a harmonious blend of exotic spices, creating a rich, creamy, and subtly sweet beverage.
Versatile:

 

Use it in smoothies, desserts, or as a coffee creamer for a golden twist.
Discover the Golden Milk Protein Latte Mix difference today and unlock a new level of wellness. Treat yourself to a daily ritual that not only tastes amazing but also nurtures your body. Experience the golden goodness now!
Makes 1 hot protein latte.
*when prepared with 2% milk
Regular price
Sale price
$4.00 USD
Unit price
per
Sale
Sorry, we've sold out!
Share With a Friend
View full details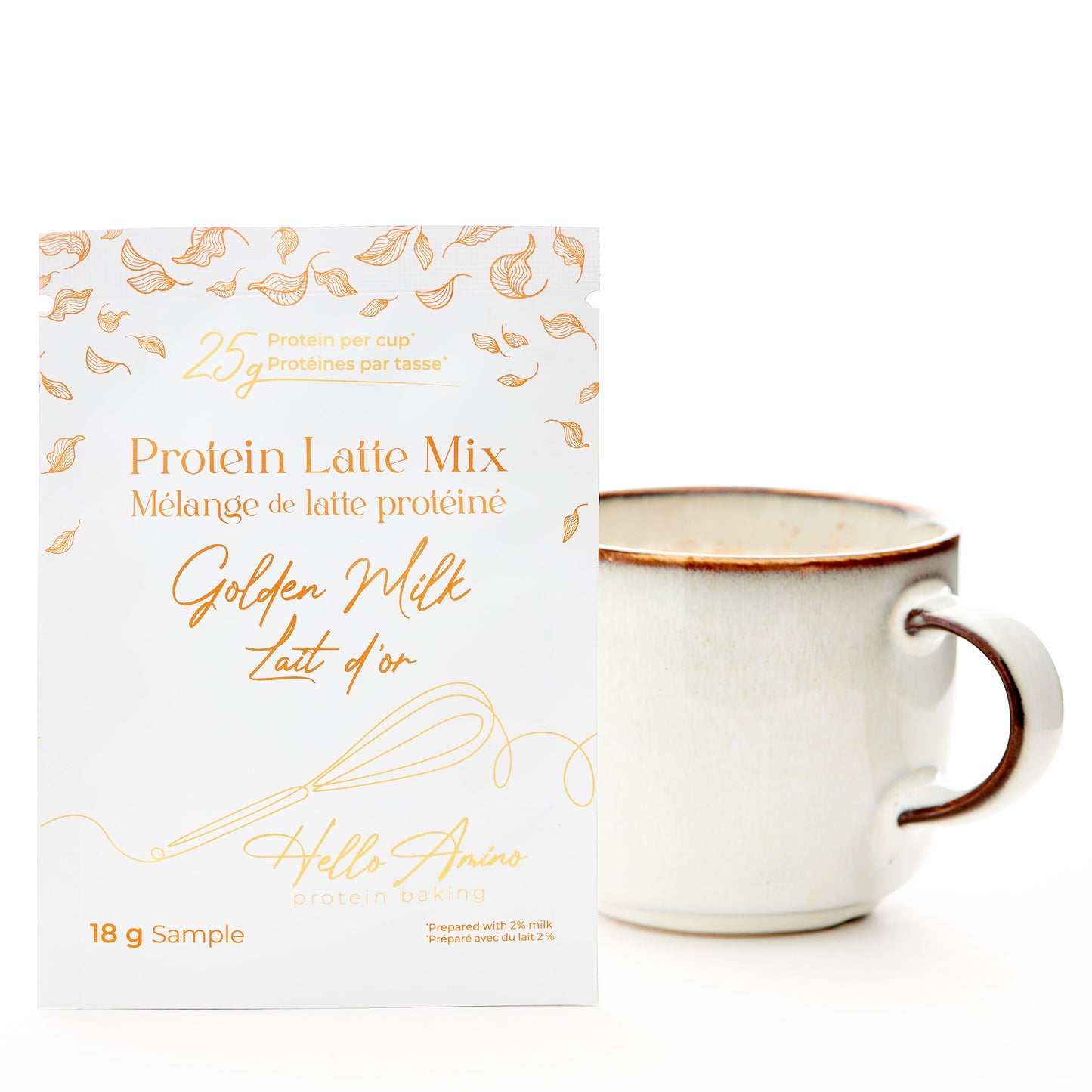 Yum yum yum 😋
This is absolutely delicious.
Spices are blended perfectly
Would highly recommend this drink.
We're so glad you enjoyed our Golden Milk Protein Latte. What amazing feedback Marilyn. Thank you again for taking the time to write a review. - Aelie
Delicious!!
This was delicious. Balance of spices was perfect. Added in more milk than recommended because it was so flavourful.
Thank you for your review! We're glad you enjoyed our Golden Milk Protein Latte. It's great for this time of year, so happy you enjoyed! - Aelie
Dare I say this is better than coffee!
This was incredible! I knew I would love it, but it blew my expectations. Great flavor, mixes well, and feels so warm and cozy on a cold morning. Looking forward to ordering more! As a coffee lover through and through, I wouldn't hesitate to incorporate this into my daily routine.
Thank you for the great review! We're thrilled to hear that you enjoyed our Single Serving Golden Milk Protein Latte and that it compares well to coffee. We hope you'll order more soon :-) - Mclain
Ways To Save
Imagine never skipping breakfast again because you don't have time or anything quick to eat in the house. Our subscription plans not only save you money, but they ensure you never run out of your favourite high protein solutions with HelloAmino! There's absolutely NO RISK and all the benefits: