FREE shipping on orders over $70!
Description

Delicious Gluten-Free Protein Banana Bread

Are you looking for a scrumptious gluten-free treat that's also packed with protein? Look no further! Our Gluten-Free Protein Banana Bread is the perfect solution for your taste buds and your health.

Our recipe combines the natural sweetness of ripe bananas with the our gluten-free flour blend and a boost of whey isolate to create a moist and flavourful banana bread that's both nutritious and satisfying.

Whether you're following a gluten-free diet by necessity or choice, you won't have to compromise on taste or texture with our mix.

Why choose our Gluten-Free Protein Banana Bread?

It's a guilt-free indulgence, perfect for breakfast or as a wholesome snack.
Each slice is loaded with protein - 15 grams per slice - making it ideal for active lifestyles.
We use only wholesome ingredients, ensuring you get the best of taste and nutrition.

Discover the joy of gluten-free baking without sacrificing flavour or nutrition. Try our Gluten-Free Protein Banana Bread mix today and savour the goodness in every bite!

Makes 10 slices.
Macronutrients

Per one slice.

Unprepared mix:

Calories: 150
Fat: 2.5 g
Carbohydrate: 20 g
Sugar: 6 g
Protein: 13 g

Prepared:

Calories: 250
Fat: 10 g
Carbohydrate: 28 g
Sugar: 11 g
Protein: 15 g
Ingredients

Gluten-free flour blend (rice flour, potato starch, pea hull fibre, tapioca starch, xanthan gum), Whey protein isolate (natural and artificial vanilla flavour, sucralose), Sugar, Almond flour, Baking powder, Baking soda, Salt, Cinnamon
Contains: Almonds, Milk
Banana Bread FAQ

What do I need to make banana bread?

You will need eggs, milk, butter, three medium, overripe bananas and vanilla extract.

How long does it keep?

The loaf will stay fresh when stored in an airtight container for 4 days. We are sure they will be eaten long before that! Slices also freeze well if stored in an airtight freezer bag.

Do I have to make the whole package?

Yes, the recipe makes a whole loaf which may be frozen after its are baked if you wish to keep them around longer. 

Can I add chocolate chips or other goodies?

You can certainly if you wish! Be sure to check our 

Recipes

page for loads of delicious muffin ideas.
Purchase With Confidence
Regular price
Sale price
$16.00 USD
Unit price
per
Sale
Coming Soon!
Share With a Friend
View full details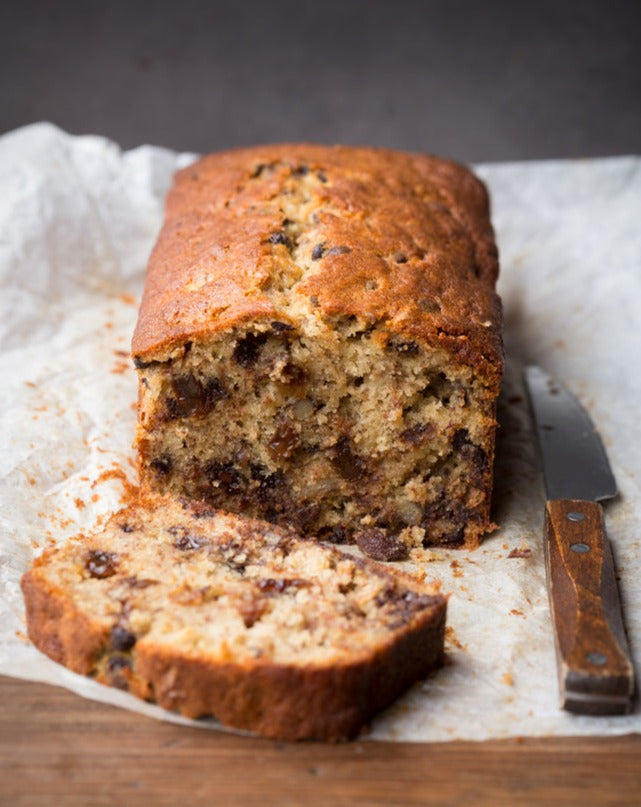 Our Guarantee
After buying and trying many of our competitors' products we are confident that our HelloAmino Protein Baking & Beverage Mixes are superior not only in general taste & texture but in protein quality & quantity.
If you don't believe that our gluten-free, protein products are head and shoulders above our competition, simply contact us and we will refund your money*.
Standing proudly behind our products,
Aelie & Mclain
Founders & Owners of HelloAmino
*Proof of purchase required.
Cannot stop thinking about these!
I make the single (really double) serve Banana bread almost daily. I love it so much, delicious! It is my afternoon treat and I wake up counting the hours. I share a bite or 2 and on rare occasions the best behaved kid gets one made for them too.
This review makes us smile! We love to hear how much you are enjoying our protein banana bread! That single serve hack recipe is my fave too. Win win for Mama and the kiddos ;) - Aelie
Delicious!
I love making the single serve recipe for breakfast. It's so delicious and a great way to start my morning with high protein.
It's a fave of mine too! Happy you're enjoying that single serve hack! - Aelie
So good
This banana bread was so good! Definitely doesn't taste like it should be guilt free
We're so happy to hear this Alicia, thank you for taking the time to review. We work hard on all our recipes to ensure they taste just like your classic baking but packed with protein! So happy you agree! - Aelie
The best!
This is the best way asking banana bread I've eaten since having to go gluten free 5 years ago and major bonus that it has protein in it. I just ordered 3 more packages because I can't get enough!
What amazing feedback Michelle, thank you! We worked on on getting the taste and texture just right! It's been so popular that we're bringing it out full time this Fall- Aelie
What a treat!
This banana bread is out of this world! Packed with protein it just feels like the perfect guilt-free indulgence. I added pecans for a little crunch. My husband was also a fan (and he hates sweets) - I really hope the banana bread is here to stay! Absolutely delicious!
We're so glad you enjoyed our banana bread mix! We love that you added pecans for a little crunch and that your husband was also a fan! Our protein banana bread has become so popular that we are going to move it from Limited Edition to a full time product. Thanks for your review, we really appreciate it. - Mclain
Banana bread
The whole thing was eaten in a day. I guess we liked it. 🤣
Haha that's awesome! Banana bread has become a new fan fave, we're so happy you enjoyed it too! - Aelie
Incredible!!
I bought this mix a couple weeks back and finally tried it lastnight (note - that was the longest anything HelloAmino has lasted in this household..usually when I buy stuff I eat it all right away haha) I bake banana bread often but this was so much better than any banana bread I've ever had! It smelled amazing when it was baking, I took it out when it was finished and could hardly wait til it was fully cooled to try it. My boyfriend and I absolutely loved it! So soft, tasty, just perfect!!!
What incredible feedback!! Thank you so much for such a glowing review! We can't wait to make it a full time product. - Aelie
Delicious
The banana bread is so delicious!! Baked it up and had to have a piece once it had cooled a little. My kiddos gobbled this piece as well!! Amazing product!!
We're so thrilled to hear you and your family are enjoying our newest addition! Thank you so much for the wonderful review Kendra. - Aelie
Protein Banana was delicious!
The Banana loaf was delicious! And with xtra protein why not!
We are all about the protein @ HelloAmino...helping you get the protein you need while allowing you to enjoy baking classics! Thanks for your review. - Mclain
Amazing!
I tried this for the first time and was BLOWN AWAY. It tastes so good, its hard to stop at a slice, or two. Will keep this on hand.
We are so happy you love our protein banana bread mix. Blown away is what we strive for! People just don't believe our baking mixes are high protein and gluten free. We promise - they are ;-) Mclain
Ways To Save
Imagine never skipping breakfast again because you don't have time or anything quick to eat in the house. Our subscription plans not only save you money, but they ensure you never run out of your favourite high protein solutions with HelloAmino! There's absolutely NO RISK and all the benefits: