FREE shipping on orders over $70!
Description

Available seasonally from September 1 to March 31 so be sure to stock up for the winter months (it's available to our loyal Subscribe & Save customers year round!).

Indulge in Delicious Health with Our Protein Cocoa Beverage

Looking for a guilt-free way to satisfy your chocolate cravings while staying on track with your fitness goals? Look no further than our Protein Cocoa Beverage!

Our Protein Cocoa Beverage is the perfect blend of rich cocoa flavour and high-quality protein, making it the ideal post-workout recovery drink or a nutritious on-the-go snack. Packed with essential amino acids not only tastes fantastic but also supports your body's muscle recovery and overall well-being.

Why Choose Our Protein Cocoa Beverage:

Rich in Protein: Each serving contains a generous 21 grams of protein to help you build and repair muscles, making it an excellent choice for athletes and fitness enthusiasts.
Delicious Taste: Indulge in the velvety chocolate goodness without the guilt, as our beverage is sugar free and low in calories.
Convenient and Versatile: Enjoy it as a standalone drink or use it as a base for smoothies, shakes, or even in your coffee for an extra protein boost.

Don't compromise on taste or nutrition. Experience the best of both worlds with our Protein Cocoa Beverage. Order yours today and take a step towards a healthier, happier you!

Each pouch makes 6 eight ounce cups of protein hot cocoa and is sold by the twin pack.
Macronutrients

Per one cup.

Unprepared mix:

Calories: 100
Fat: 1.5 g
Carbohydrate: 9 g
Sugar: 0 g
Protein: 21 g

Prepared With 2% Milk:

Calories: 230
Fat: 4.5 g
Carbohydrate: 10 g
Sugar: 13 g
Protein: 30 g

Prepared With Unsweetened Almond Milk:

Calories: 140
Fat: 4.5 g
Carbohydrate: 10 g
Sugar: 0 g
Protein: 22 g
Ingredients

Whey protein isolate (natural and artificial vanilla flavour, sucralose), Organic Dutch cocoa
Contains: Milk, Traces of almonds
Cocoa FAQ

What do I need to make cocoa?

For the cocoa you will need a liquid like water, milk or an unsweetened almond/oat milk. 

Does the cocoa blend well?

It sure does! Our cocoa blends very well with just a fork. Even better, you can use our HelloAmino Mini Frother for extra creaminess.

Can I add the cocoa to my coffee?

You sure can! We have many customers that add our protein cocoa to their coffee. You can experiment with the amount you add to get your perfect protein mocha!

Can the cocoa be made cold?

To make an iced version, you can simply make a serving as per usual and blend it up with some ice in your blender.
Purchase With Confidence
Regular price
Sale price
$21.00 USD
Unit price
per
Sale
Coming Soon!
Share With a Friend
View full details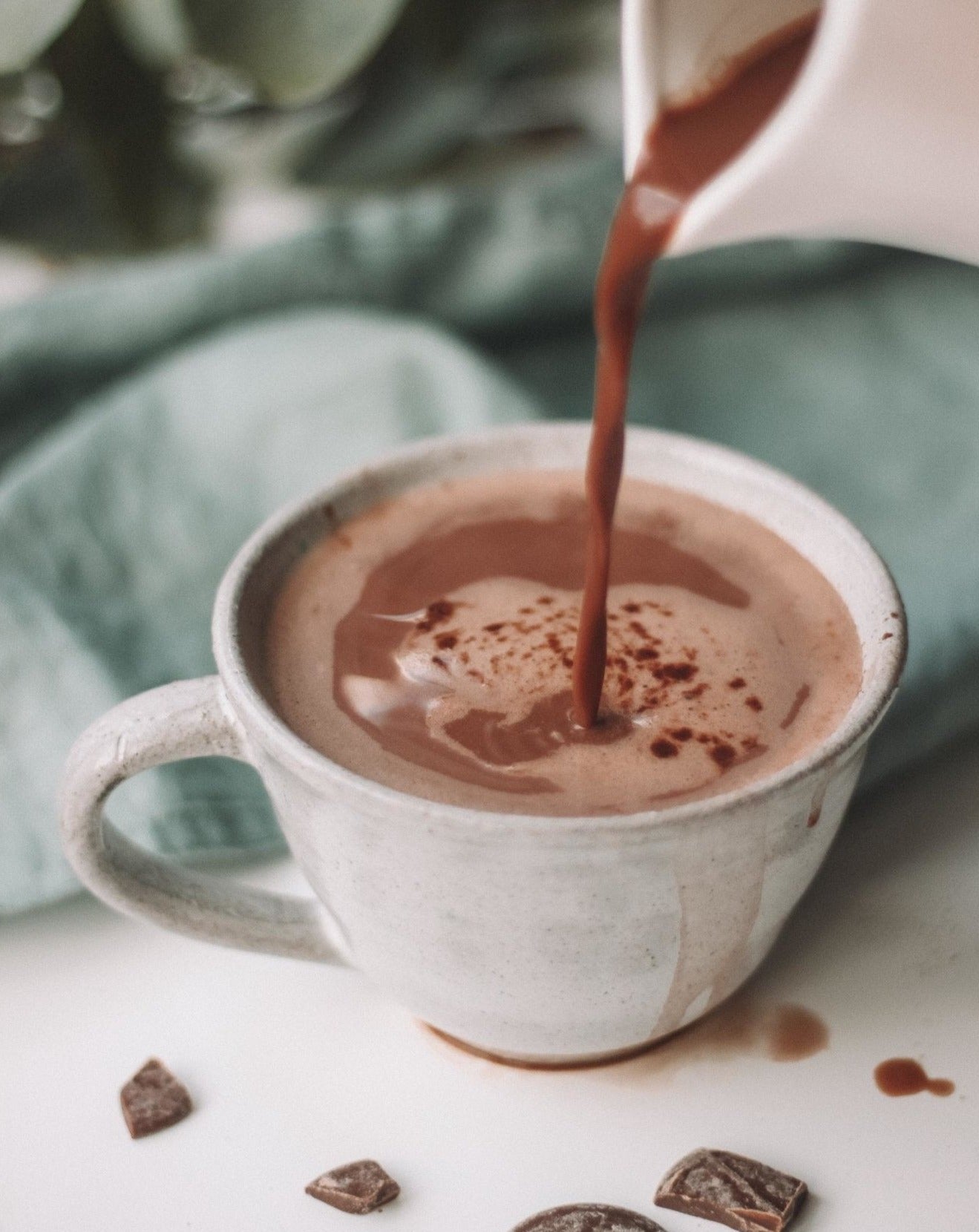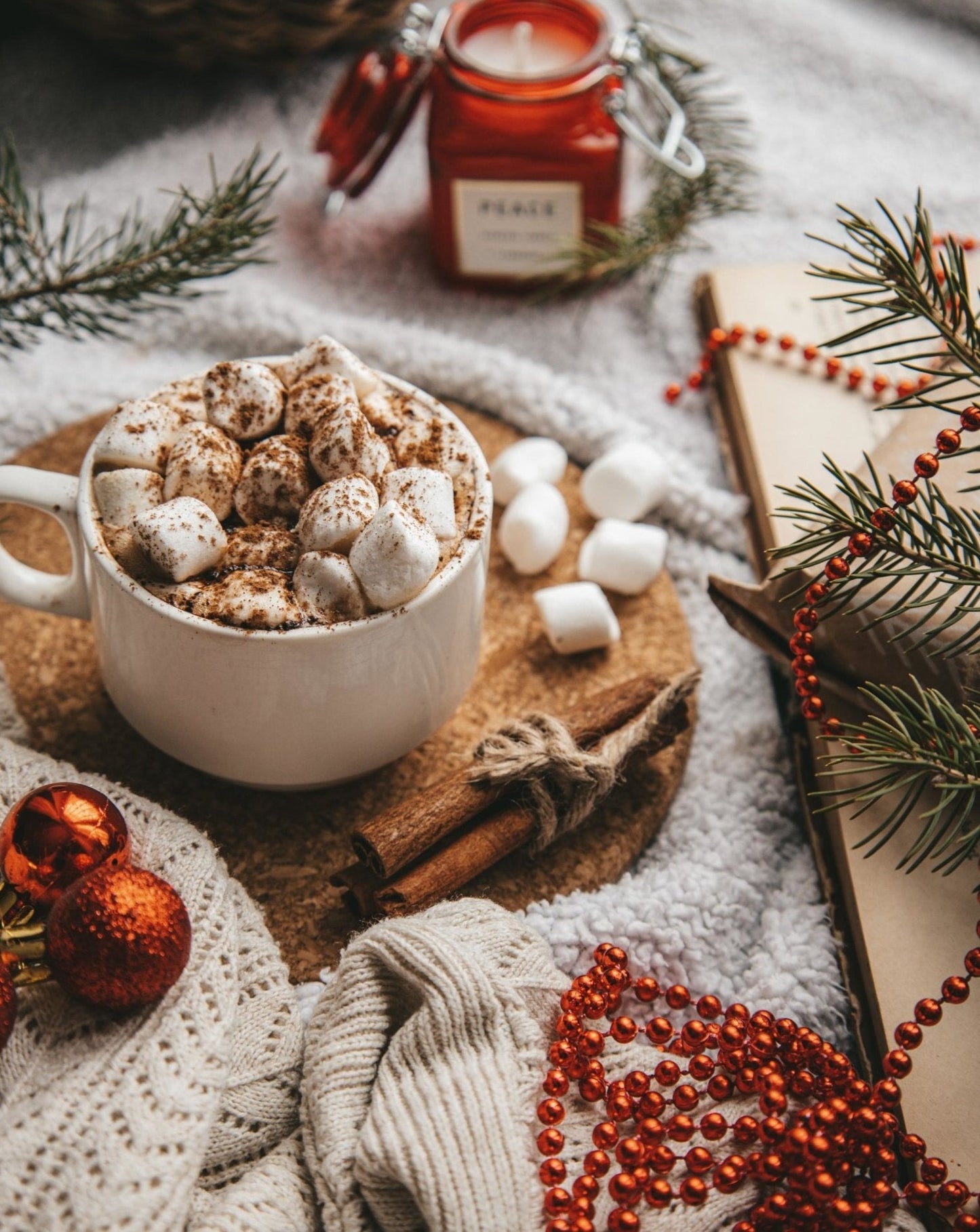 Our Guarantee
After buying and trying many of our competitors' products we are confident that our HelloAmino Protein Baking & Beverage Mixes are superior not only in general taste & texture but in protein quality & quantity.
If you don't believe that our gluten-free, protein products are head and shoulders above our competition, simply contact us and we will refund your money*.
Standing proudly behind our products,
Aelie & Mclain
Founders & Owners of HelloAmino
*Proof of purchase required.
A perfect morning treat
I have the hot cocoa almost every morning as a nice way to add some more protein while also feeling very indulgent because it's so rich, frothy and delicious.
We're thrilled to hear that our Protein Cocoa Mix is a perfect morning treat! Our cocoa is sure to give you a boost of protein so you can start your day off right. Thanks for taking the time to review our product - we really appreciate it. - Mclain
My Daily Indulgence
This hot chocolate is insanely delicious. It is so rich and chocolaty that it feels indulgent, but with low sugar and fat (so important for diabetics like me) and extra protein, it's very healthy. Gives me my chocolate fix without any of the negative parts. I love it so much I get it on a subscription and I drink it every day all year.
Aww Joey you are the best! So happy to hear you are enjoying our protein cocoa! We just brought out a new custom pouch for it too :) Thank you for the glowing review! - Aelie
Protein cocoa mix
This is the best cocoa ever, just the right sweetness and it has the added protein bonus. Delicious with a slice of double chocolate brownie!
This IS the best cocoa ever! A slice of double chocolate brownie? Brilliant! - Mclain
Delicious treat
Great alternative to drinking a protein shake
Thank you for your review! We're glad you enjoyed our Protein Hot Cocoa - 2 Pack. It's a delicious treat that's great alternative to drinking a protein shake. - Mclain
The perfect Indulgence!
The Hot Cocoa mix is so delicious! The right balance of sweet and chocolate for any hot chocolate drinker. It's my evening treat when I'm watching movies with my family and it's good for me too! Definitely a staple in my mom treats!
Ohh I love this!! I just got all the warm feels reading it. We're so happy you're enjoying our seasonal hot cocoa! Be sure to stock up as it's only here until the end of March. :)
This is a lovely, rich dark hot chocolate, and it mixes amazingly well with just a fork. Great product!
We love this feedback! So happy you're enjoying it!
Thank you for giving me the most indulgent way to hit my protein goals! I have such a sweet tooth, and this hot chocolate honestly NAILS IT!! Obsessed with every single product from you guys, and I don't know what took me so long to try this!!
I don't even know where to start! I thought I hit the jackpot with the muffins and the waffles and now I am completely OBSESSED with this protein hot chocolate! Every single product that I have tried so far has been a home run! I am so grateful to have found these amazing goodies as I find it hard to get all of my protein in each day. I am also a flight attendant so I am constantly looking for tasty treats and options to take with me on the road! Thank you so much HELLOAMINO! Your products are absolutely amazing!
This is the BEST protein hit chocolate I have ever had! I find I don't even need the full serving for a rich cup, 2-3 tbsp. works so well with all kinds of milks. It blends so easily and there is no weird aftertaste. My 4 year old thinks it's delicious too!
I'm in love. I've never been a hot chocolate fan, but did like to put a scoop in my coffee now and then. This mix has changed all that! I now make hot chocolate and add a shot of espresso. It's delicious and provides a great dose of protein to boot!
Ways To Save
Imagine never skipping breakfast again because you don't have time or anything quick to eat in the house. Our subscription plans not only save you money, but they ensure you never run out of your favourite high protein solutions with HelloAmino! There's absolutely NO RISK and all the benefits: