FREE shipping on orders over $70!
Description

Discover Our Gluten-Free Protein Muffins

Satisfy your cravings with our delectable gluten-free protein muffins. Crafted to perfection, these muffins are a blend of flavour and nutrition, catering to your taste and dietary needs.

Why Choose Our Gluten-Free Protein Muffins?

Gluten-Free Goodness: Our muffins are gluten-free, making them a safe choice for those with celiac disease or gluten sensitivities.
Protein-Packed: Boost your protein intake with our muffins, perfect as a post-workout snack or a quick breakfast.
Delicious Flavours: From classic chocolate chip to blueberry almond, our muffins can be made into a variety of mouthwatering flavours. Recipes Here.
Low Sugar: Enjoy guilt-free indulgence with our low-sugar muffins that don't compromise on taste.

Convenient Snacking

Our muffins are convenient for on-the-go enjoyment. Whether you're at the office, gym, or on a quick break, they're the perfect snack or breakfast solution for you and your family.

Join the Gluten-Free Revolution

Make a delicious and wholesome choice today. Order your gluten-free protein muffins and embark on a flavour-packed journey to better health!

Before making your muffins, click here and give this blog post a read to help you make the best muffins possible ;-)

Makes 12 muffins.
Nutrition Facts

Per one muffin.

Unprepared mix:

Calories: 120
Fat: 2 g
Carbohydrate: 17 g
Sugar: 5 g
Protein: 11 g

Prepared with applesauce:

Calories: 200
Fat: 9 g
Carbohydrate: 17 g
Sugar: 6 g
Protein: 12 g

Prepared with banana:

Calories: 200
Fat: 10 g
Carbohydrate: 18 g
Sugar: 6 g
Protein: 12 g

Prepared with pumpkin:

Calories: 200
Fat: 9 g
Carbohydrate: 17 g
Sugar: 5 g
Protein: 12 g
Ingredients

Gluten-free flour blend (rice flour, potato starch, pea hull fibre, tapioca starch, xanthan gum), Whey protein isolate (natural and artificial vanilla flavour, sucralose), Almond flour, Sugar, Brown sugar, Baking soda, Baking powder, Salt
Contains: Almonds, Milk
Muffin FAQ

What do I need to make muffins?

You will need eggs, oil and any ONE of these following base ingredients: unsweetened apple sauce, overripe banana or canned pumpkin.

How long do they keep?

The muffins will stay fresh when stored in an airtight container for 4 days. We are sure they will be eaten long before that! They also freeze well if stored in an airtight freezer bag.

I heard you can make mini muffins?

Yes, and they are perfect for kiddos: Prepare the batter as per instructions and divide into approx. 40 mini muffin liners and enjoy 3 grams of quality protein in one perfect bite! Bake at 375 for approximately 9 minutes. Be sure to check our 

Recipes

page for loads of delicious muffin ideas. We call themYour Dream Muffin for a reason!

Do I have to make the whole package?

Yes, the recipe makes a dozen muffins which may be frozen after they are baked if you wish to keep them around longer. 

Can I add chocolate chips or other goodies?

You can certainly if you wish! Be sure to check our 

Recipes

page for loads of delicious muffin ideas. We call themYour Dream Muffin for a reason!
Regular price
Sale price
$15.00 USD
Unit price
per
Sale
Sorry, we've sold out!
Share With a Friend
View full details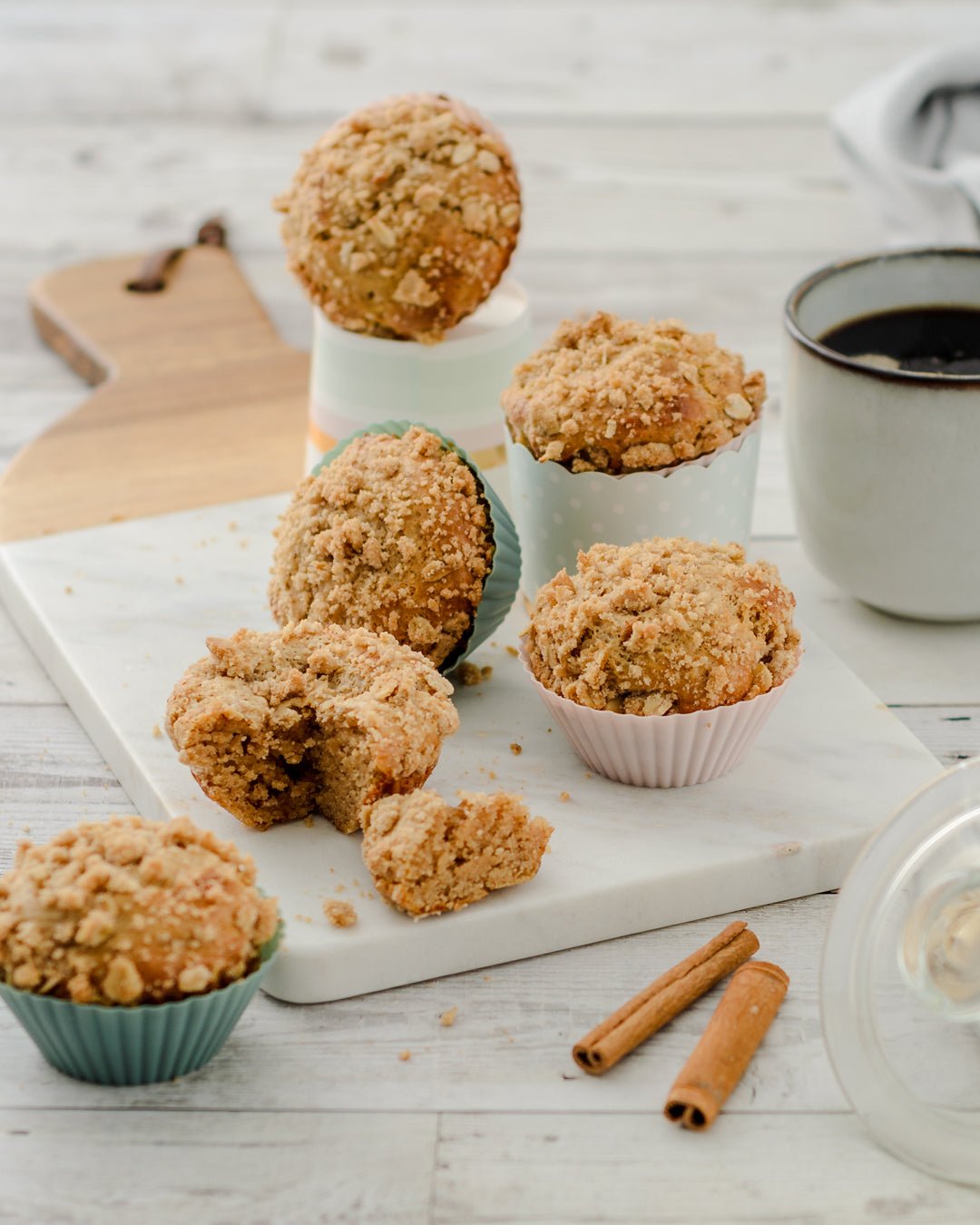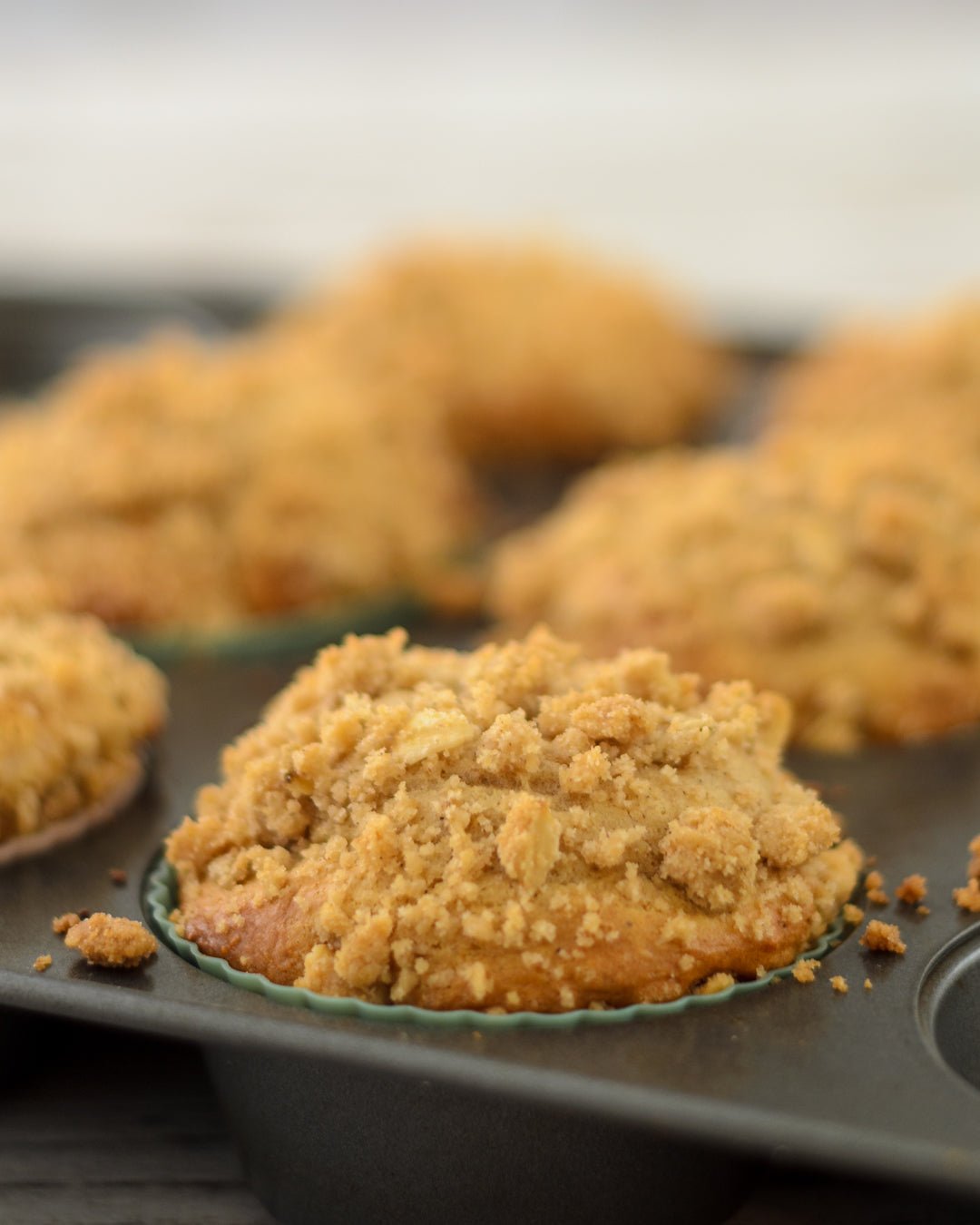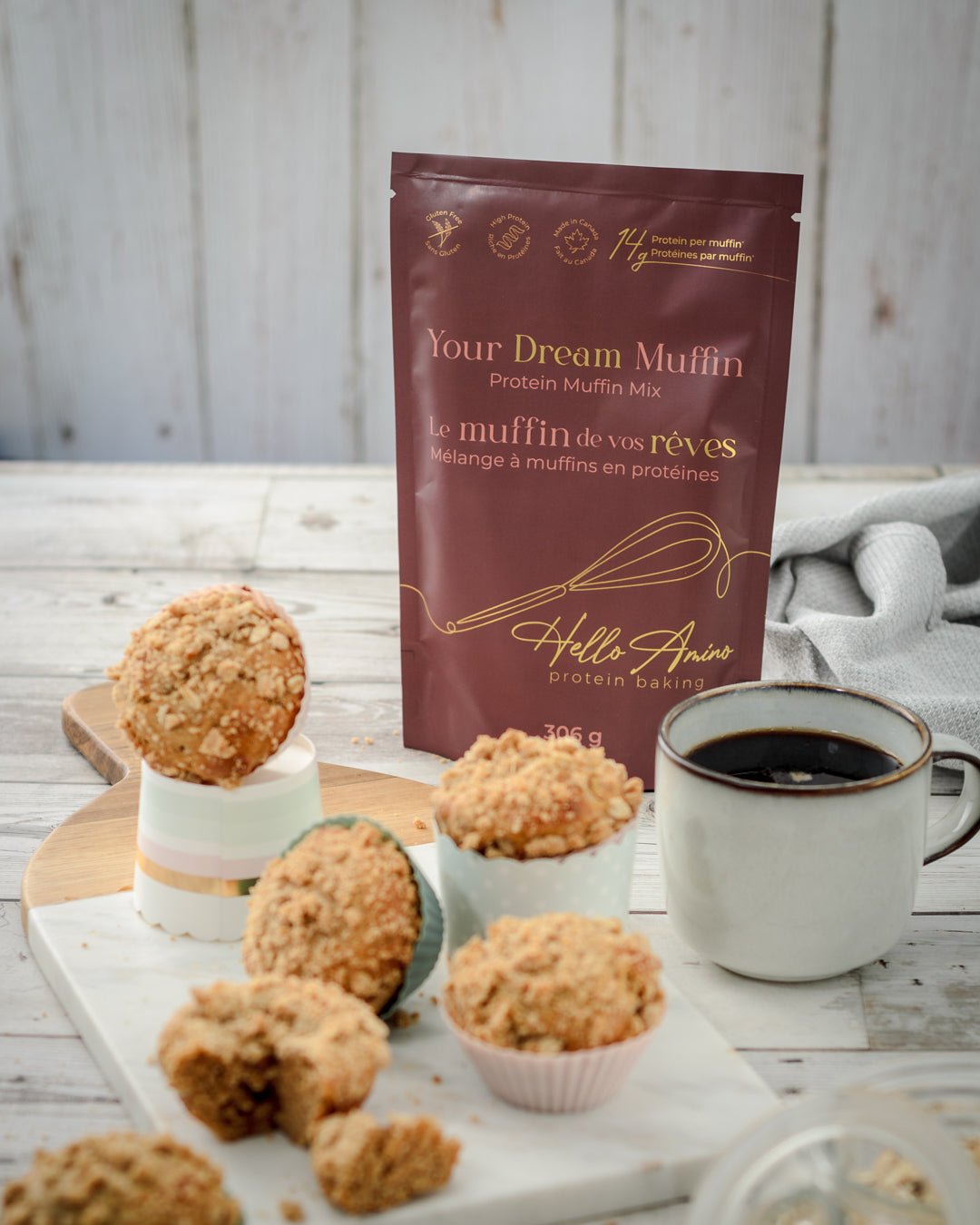 Protein Power Plus
Thanks for suggesting adding frozen fruit to muffin mix. My husband is a reluctant GF sampler but loves these out of the oven or warmed up.
Glad you came to Canmore Market as Im always looking gor kits to take on our winter road trips. These are perfect & easy to make. Looks fabulous in Pampered Chef silicone flower cupcake pan!!
Thank you so much for this wonderful review Jan! We love coming to Canmore and are so happy you stopped by our booth as well.Keep your eye out for more muffin recipes to come on our website. - Aelie
Ideas for adaptations?
I made these with bananas and walnuts, and found them very sweet. I will try again with pumpkin to curb the sweetness and might add almond flour or other GF flour to offset the sugars.
While we have cut back on the sugar by 50% of traditional baking everyone's tastes are different. As overripe bananas are in general quite sweet, I would use the unsweetened applesauce as your base and then add in something more acidic with it, such as lemon zest or frozen cranberries. Definitely do not add more flour, this will result in a dry muffin. I did send you an email as well about this. Thank you for your feedback - Aelie
The tastiest muffins ever!
These are incredible and a favorite of mine for sure. The yummy flavor is amazing no matter what mix in you choose! I've always made them with apple sauce but my most recent recipe was made with banana and they were incredible! My boyfriend loved them as well!
Thank you for the kind words, Caylin! We're so glad you like our muffins and that they're a favourite of yours. We love that you can customize the flavours to your liking and that they're delicious no matter what mix in you choose. Thanks for the great review! - Mclain
Best muffins ever
These are easily the best muffins I've ever had! The fact that they are high protein is just icing on the cake. I have spent literally months looking for tasty high protein, low cal breakfast options, and these are EXACTLY what I've been searching for.
What amazing feedbackTherese!! We love hearing glowing reviews like this. Thank you so much for sharing! - Aelie
Light and yummy muffins
I used apple sauce in my first two batches and they were delicious, so good they go very quickly. Only 3 left so I had better make another batch! I will use pumpkin in my next batch and I am sure they will be just as good.
Thanks for the feedback! We're glad you enjoyed our muffins and that you found them light and yummy. We're excited to hear that you will be using our mix to create different flavours in the future. Thanks for your support, Beverly! - Mclain
Awesome muffins!
Tried the muffins using apple sauce and mini chocolate chips. Two thumbs up! Great mid morning snack!
Thanks for the feedback! We're really happy to hear that you liked the muffins and we're so excited that you found them useful as a protein snack. Thanks again for taking the time to write a review...we really appreciate it. - Mclain
The muffin mix is so yummy. The whole family enjoyed them as well but
Happy to hear the whole family enjoyed! We so appreciate the review Jennifer :) - Aelie
The muffin mix is delicious!!!! As is the brownie mix.
Thank you for your review! We're so glad you're enjoying our products. - Mclain
Not your average muffin, way better!
You've ruined me for all other muffins, these are honestly the best, they taste like sugar cookies!
Ha ha :-) We worked tirelessly to perfect our muffin mix to give you that exact experience. - Mclain
My go to for the family
Tasty and versatile with the opportunity to mix up the flavour on the mashed fruit profile you choose to implement. A guilt free family pleaser
Yay! That is exactly why we created such a versatile muffin mix. Glad you are enjoying it. - Mclain
Ways To Save
Imagine never skipping breakfast again because you don't have time or anything quick to eat in the house. Our subscription plans not only save you money, but they ensure you never run out of your favourite high protein solutions with HelloAmino! There's absolutely NO RISK and all the benefits: