Sorry, we've sold out!
FREE shipping on orders over $70!
Description

Coming in October!

Indulge in the cozy flavours of fall with our Pumpkin Spice Protein Latte Mix. Crafted to satisfy your autumn cravings while fuelling your body, this delectable blend combines the warmth of pumpkin spice with the goodness of protein, giving you a delightful and nutritious beverage.

Our premium Pumpkin Spice Protein Latte Mix is the perfect way to start your day or refuel after a workout. Packed with high-quality protein, it helps you stay full and energized throughout your day. Plus, the rich and aromatic blend of pumpkin, cinnamon, ginger, cloves, allspice, nutmeg, cardamom will remind you of crisp, autumn mornings.

Why choose our Pumpkin Spice Protein Latte Mix?

25g* of protein per serving
Real pumpkin for authentic flavour
Organic spice blend
Gluten-free

Savour the taste of the season while maintaining your wellness goals. Order our Pumpkin Spice Protein Latte Mix today and embrace the fall spirit in every sip.

Join us in celebrating autumn with a healthier twist. Don't miss out on this seasonal favourite – order now!

* made with 2% milk

Makes 12 hot or 9 iced protein lattes.

*when prepared 2% milk
Macronutrients

Per one cup.

Unprepared mix:

Calories: 70
Fat: 0 g
Carbohydrate: 2 g
Protein: 16 g

Prepared With 2% Milk:

Calories: 210
Fat: 5 g
Carbohydrate: 14 g
Protein: 25 g

Prepared With Unsweetened Almond Milk:

Calories: 110
Fat: 3 g
Carbohydrate: 3 g
Protein: 18 g
Ingredients

Whey protein isolate (natural and artificial cinnamon flavour, sucralose), Organic spice blend (cinnamon, ginger, cloves, allspice, nutmeg, cardamom)
Contains: Milk
May Contain: Traces of almonds
Protein Latte FAQ

What do I need to make tea lattes?

For our latte mixes you will need milk or an unsweetened almond/oat milk. 

Is a milk frother required?

While we do recommend our amazing HelloAmino Mini Frother for a superior creamy texture it's not absolutely necessary. You can blend it together using a whisk instead.

How much caffeine do they contain?

Our organic black tea has approximately 47 mg of caffeine per cup. This is much lower than coffee at 95mg per cup and there's no caffeine in our Golden Milk Protein Latte Mix.

Can the lattes be made cold?

Of course! Add 1 cup of milk of choice and 4 tbsp of latte mix to a large glass or protein shaker. Mix using our HelloAmino Mini Frother or shake until smooth and creamy. Fill a large glass with ice, pour over and stir well. Enjoy!

I find the flavour too strong or too thick, what can I do?

Every palate is different! You can simply add a little more milk or a little less mix. Adjust to suit your taste - no wrong way here!
Purchase With Confidence
Regular price
Sale price
$19.00 USD
Unit price
per
Sale
Coming Soon!
Share With a Friend
View full details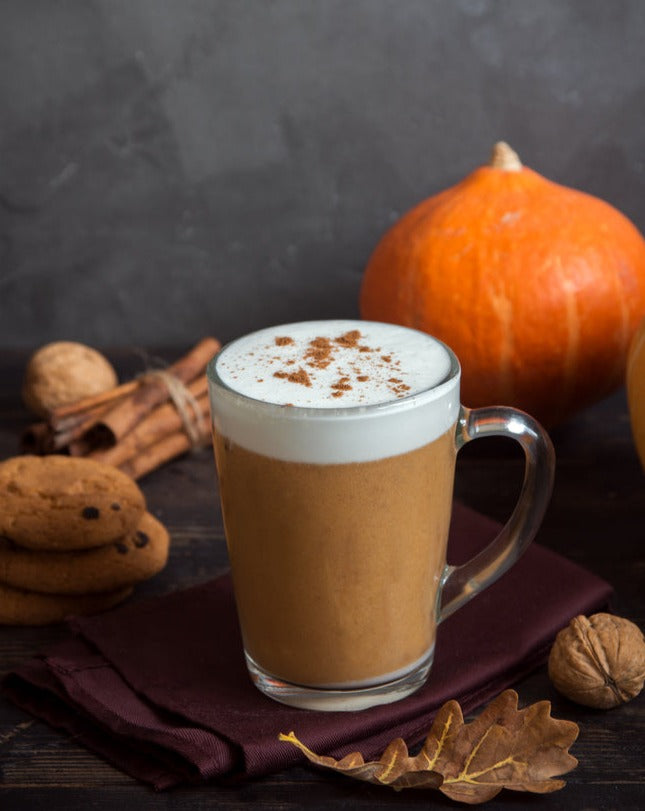 Our Guarantee
After buying and trying many of our competitors' products we are confident that our HelloAmino Protein Baking & Beverage Mixes are superior not only in general taste & texture but in protein quality & quantity.
If you don't believe that our gluten-free, protein products are head and shoulders above our competition, simply contact us and we will refund your money*.
Standing proudly behind our products,
Aelie & Mclain
Founders & Owners of HelloAmino
*Proof of purchase required.
Ways To Save
Imagine never skipping breakfast again because you don't have time or anything quick to eat in the house. Our subscription plans not only save you money, but they ensure you never run out of your favourite high protein solutions with HelloAmino! There's absolutely NO RISK and all the benefits: